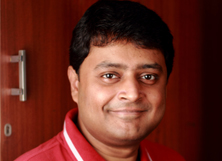 Mr. Venkatesh C. R.
Managing Director & Chief Executive Officer (CEO)
"Everything is possible, especially the impossible."

– Venkatesh C.R.
Venkatesh C.R. is the Managing Director and CEO of Dot Com Infoway (Galatta.com), one of India's premier IT services company.It doesn't take a rocket scientist to head an IT company, but it takes an entrepreneurial mastermind to transform obstacles into opportunities in the software industry.
When Venkatesh C.R. entered the web space in 1996, the Internet was still a distant new technology in India. It was a time when Google was just born, Microsoft was still crawling and Apple was learning to walk. Internet was unheard of in tier II cities like Madurai. But passion makes headway through any thick and thin, and Venkatesh's interest in emerging web technologies made him pioneer the Internet revolution in Madurai. As President of Internet Users Community of India (Madurai Chapter) for four years from April 1996 to June 2000, Venkatesh C.R. was instrumental in bringing Internet access to Madurai.
Venkatesh's IT career had a modest start with CRV Infotech, a web design company founded in April 1996. With a minuscule group of less than 5 employees, CRV Infotech offered web design and development services to clients across the globe. Under Venkatesh's able leadership, CRV Infotech did a spic and span job and earned the reputation of a web company with an enormous potential for growth.
Business empires are born by chance meetings, they say. It was only a chance meeting between Venkatesh C.R. and Girish Ramdas, President of GNG Internet, which sowed the seed for Dot Com Infoway. In April 1999, CRV Infotech and GNG Internet merged to form a brand new IT company, Dot Com Infoway with Venkatesh C.R. as the Managing Director and CEO.
As a fledgling company, Dot Com Infoway had no more than 5 staff members under its roof. Kudos to Venkatesh's industrious and strategic approach, the company spiraled from a negligible 5-member staff to a remarkable 300+ employee team within a span of 9 years. Now, Dot Com Infoway is a premier IT company in India engaged in application development, web design and development, Internet marketing, mobile application development and marketing to clients all over the world.
Venkatesh is one of the masterminds behind the creation of Galatta.com, a media initiative and movie portal of Dot Com Infoway which is engaged in the legal aggregation and distribution of movie related content online. Galatta.com has several wings of which the most prominent are Galatta Cinema (a movie magazine), G3 (lifestyle supplement) and Galatta Media (an Event Management initiative).
What the caterpillar calls the end of the world, the master calls a butterfly. Business has many caterpillar-moments, but Venkatesh's own brand of ebullient, focused and visionary leadership has transformed every barrier into an opportunity, infusing Dot Com Infoway with business agility and spirit of excellence. A dynamic and meticulous achiever, Venkatesh has 14+ man years of experience in handling small to large integrated projects.
Other than business, Search Engine Marketing is one of Venkatesh's strong fortes. His passion for new web start-ups, emerging web trends and latest technologies, makes him a versatile web user to whom the web is an exclusive way of connecting to people and marketing services. His social networking capabilities are unparalleled and he belongs to the clan of new-age CEOs who have a powerful and prolific web presence.
A young veteran in the Indian IT circle, Venkatesh holds a bachelor's degree in Mechanical Engineering from Anna University, Chennai. Venkatesh did his schooling in Vikassa School, Madurai where he was an arduous student in academics and other kinds of extra-curricular activities.
He is admired by friends and colleagues for his memory skills, business acumen, negotiation tactics and interest in new technologies. He has a penchant for magic, dream interpretation and palmistry and pursues these interests with ardent passion. A seasoned business traveler, Venkatesh's wanderlust spirit has urged him to make business and other trips all over the world. He has dealt with many overseas clients over the past 10 years during his business trips abroad.
Venkatesh insists on getting things done within the shortest possible time frame and opines that everything is achievable if we put our heart and soul into it. A multi-talented entrepreneur, Venkatesh C.R. leads by example and believes that, with sincere and relentless hard work, "Everything is possible, especially the impossible".

Dot Com Infoway Wins Readers' Choice Award for SEO
We feel privileged to be presented with an award that recognizes our collaborative efforts, innovative solutions and our long-standing relationships with customers.


Dot Com Infoway Shortlisted for the 2011 Red Herring Global Award
As accolades always spur achievement, DCI is elated to be selected as a Red Herring 2011 global finalist and we look forward to competing for top honors. We thank Red Herring for organizing one of the industry's most respected award programs, which celebrates the achievements, innovations and passion of promising ventures.


DCI accelerates the prospects of VCs and Startups with Fund Start
With this innovative product, we plan to take the market by storm. Every VC would like to ensure that the money they invest is spent wisely and correctly. We would make it happen by providing our best services and will soon become a favorite of the VCs. Startups, on the other hand, usually spend a lot of time and money to find service providers to work on converting their ideas to life. This is where we come in. Through Fund Start, they can easily arrange for a contract with us and get their work done. That way, we are a bridge between the startups and the venture capital funds. There is a huge market here and this niche area will continue to grow.


Dot Com Infoway Bags Red Herring Top 100 Asia Award
We feel honored to be featured by Red Herring as one of the Top 100 companies from Asia for the year 2011. It is a tribute to the entire team at DCI for their untiring efforts, determination and unmatched customer service over the years.


Dot Com Infoway Nominated for 2011 Red Herring Top 100 Asia Award
We believe that client satisfaction is the yardstick to measure our expertise. This year has been a remarkable one for DCI and our dream run continues with this nomination. This recognition will certainly add to the reputation of the company.