It's time to find out where you stand.
At DCI, we've been delivering innovation in digital services for nearly 15 years. In developing successful relationships with clients all over the world, we've come to understand the importance of thought before action. It's an ideal that goes into everything we do – especially when it comes to achieving Search Engine Optimization (SEO). Before we can determine the perfect SEO approach for any given partner, we take the time to complete a careful investigation of your site's accessibility, URL structure, content, and page signals (and much more) to determine a factual baseline as a key (and valuable) starting point.
What's so special about our SEO Audit
At DCI, an SEO Audit contains a comprehensive written evaluation of all current and relevant SEO factors – along with screenshots, visual elements, spreadsheet data, and infographics – and gives our clients the clear and unabridged real-time understanding they'll need to decide on the right ROI-driven approach. The DCI methodology for SEO auditing relies heavily, once again, on the premise of thought before action.
After determining benchmark KPI's and developing the appropriate reports, we will analyze SEO performance based on: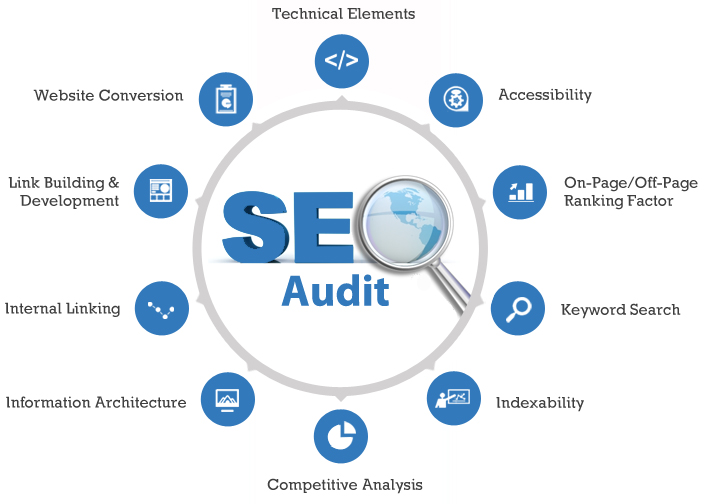 I contacted Dot Com Infoway for help with Search Engine Optimization. The team worked diligently and quickly to optimize my website for improved visibility. I am very happy to say that my site jumped to the top in Google searches, resulting in a substantial increase in my client base. Their fees were reasonable too. I would recommend them highly.
Kamana Mathur, Immigration Attorney, MathurLaw LLC, Pittsburgh PA
Dot Com Infoway perfectly understood the depth of our competitive industry and requirements, and addressed our needs with innovative strategies. They not just generated quality traffic to our site, but also established our presence online. Meticulous and committed, they are remarkable in all that they do.
Kalyana Chadalavada, HPC Systems
DCI did a fantastic job on the website link project. The quality of the links that was gathering is top notch. I would highly recommend them to anyone who would be interested in getting more links. Thanks again for the wonderful job.Excellent first rate company and service, no problems, no fuss just did the project on time and exactly as requested.
Neil, Enter Debt Consolidation
We were very pleased by the professional approach of Dot Com Infoway and its associates took to their service. They have a great understanding for link building strategies and helped us with good rankings in the very competitive environment of the German DSL market.
Holger, DSL Fragen
I just wanted to let you know that I am very satisfied with your services.You have helped my website go from the last page on Google to the first page on Google.That accomplishment speaks for itself.Great work!!!
Alan Weinstock
Self Care Corporation approached DCI in 2010 due to our growing maintenance requirements and number of visitors to our website. We were looking for a professional team that could cater to more than one task.Our website was nowhere near coping with the large account of customers visiting the website. We were also concerned about the website not being properly optimised for Google generic search.DCI has offered us a number of services including design, development and SEO. When it comes to SEO, their ability to understand our business as a whole and complete all tasks in a timely manner has given us the assurance that we're dealing with a highly professional and dedicated team.
George Kekeli COOSelfcare Corporation Pty Ltd
I can't thank you & your team enough, I was very worried about a process I knew nothing about. But right from my first email to yourself, I felt reassured I was with the right team. This has been so all the way through, I have appreciated your patience, support & advice on several topics like digital marketing & Web Design and Development. Your professional and knowledgeable team clearly guided me in this unfamiliar world. I would not hesitate to recommend Dot Com Infoway to any of my colleagues.
Kelly Scherr