BlackBerry means business and BlackBerry's latest product, the BlackBerry PlayBook is no exception to this. Though yet to be launched in the market, BlackBerry PlayBook is already a winner in the business community. With better build, sleek design and high technology, it looks like the PlayBook will rule a major part of the tablet market.Dot Com Infoway is keen on the BlackBerry PlayBook. Though the Blackberry PlayBook is expected to hit the shelves by early 2011, owing to our strong expertise in
iPad application development
, we look forward to develop noteworthy apps for the BlackBerry PlayBook platform.
Dot Com Infoway has plans to develop custom apps for the BlackBerry PlayBook which runs on BlackBerry Tablet OS. Our industry intelligence in
mobile application development
,
iPhone application development
, and
BlackBerry application development
have given us the leading edge in making user-friendly, custom-made mobile apps. Unlike the other mobile operating systems, BlackBerry tablet OS supports a lot of other platforms like POSIX, OpenGL, BlackBerry 6, Webkit, Java, Adobe Flash and Adobe AIR, which can be leveraged to make utility apps of the most sophisticated kind, especially for the high-end business traveler.
Dot Com Infoway's BlackBerry PlayBook application development will cater to a wide range of industry verticals like
Banking & Finance
Hospitality
Healthcare
Insurance
Aviation & Transport
Retail & Entertainment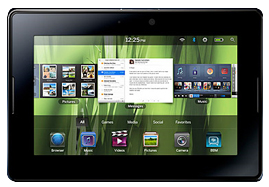 Focused on the business community, the BlackBerry PlayBook will be a conducive platform for diverse kinds of business and enterprise applications. Secure and hack-proof, DCI's PlayBook apps will be highly scalable and innovative to suit the high-end businessman.Want to make your mark in BlackBerry PlayBook market? Contact us now to know more about our PlayBook application development. With mobile application development as our primary focus, we engage in innovative app development for the
iPhone
,
Android
,
BlackBerry
,
BADA
and
iPad
platforms. Want to develop apps in iPhone or Android or any of the mobile platforms? Ask for a
free quote
now!