Qt is a cross-platform C++ -based GUI toolkit, specifically implemented in the real component programming scenarios with fully object-oriented concept. It offers the environment to develop professional, portable, highly efficient, easily extensible and maintainable GUI applications, quickly and which makes it easy for mobile app developers to create mobile applications and deploy them on Windows, Mac, Linux, Windows CE, Windows Mobile or even on embedded Linux platforms without altering the source code. Qt uses the native graphics APIs of the different OS platforms that it can support, building a good deal of system resources which ensures a mobile application to have a native look and feel.
Qt application development is a comprehensive framework environment that includes an extensive array of capabilities that enables the development of high-performance applications for both client / server side. DCI's Symbian mobile application migration / porting services doubles the user experience of your applications and helps it to go an extra mile to meet your clients needs.
Our Qt experts offer you
Qt Application framework development
Qt graphics View framework
Qt Custom widget development
Qt Webkit development
Qt extensions development
2D/3D OpengGL graphics
Qt 3.0 to Qt 4 porting
Motif to Qt porting
MFC (Microsoft Foundation Class Library) to Qt
Qt-based app testing services
Cross-platform porting / migration using QT
Open Look to Qt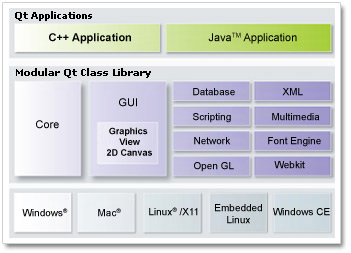 It is obvious, that every enterprise or an organization reaches a crucial juncture in their mobile application development process, where they start to find the appropriate environments to port their legacy applications to a new technology from their out-dated technologies. As an expert GUI and Qt application developer, DCI will work out with your existing application code and our consultants will come up with a comprehensive analysis to determine the most suitable and possible environments to port / migrate your existing applications. Our Qt experts can render you a complete cost/benefit analysis which would highlight the particular trouble spots in Qt porting & development,
DCI's experience in Qt porting / migration enables us to provide our clients, a more comprehensive solution than recoding an application from step one. In addition to all the above, we concentrate on expertise transference in order to build our in-house knowledgebase which we consider as the core structure to sustain and develop.
We at DCI have a team of Qt experts who can render quality Qt-based application development services with advanced GUI functionalities on embedded platforms or desktops. Please click here to submit your Qt requirements and get more information on DCI's Qt cross-platform application development services.