Apple, Samsung to Hold 50% of Smartphone Sales by 2013
DCI
According to a new report, Samsung and Apple, together will hold more than 50% of the total global smartphone market share by 2013.
Canaccord Genuity's analyst Michael Walkley made a forecast of the market share of various vendors in the smartphone industry. He noted that the combined market share of Apple and Samsung at the end of the second quarter of this year was 48.1%. By the end of 2012, it would reach 49.7% and by the end of 2013, their combined share could reach 52.3%.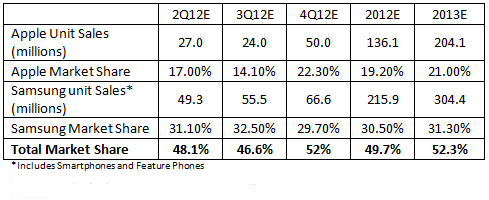 He also said that Samsung will grab the majority of the market share holding 31.3% of the total sales in 2013 with 304.4 million shipments. Apple, on the other hand, is expected to ship around 204.1 million iPhones in 2013, by holding 21% of the global smartphone market share.
While speaking about the smartphone industry, Walkley said, "With the Samsung Galaxy SIII smartphones and HTC One series starting to ramp volume into the channel combined with our expectations for the iPhone 5 to launch in October, we anticipate more H2-weighted 2012 smartphone sales than normal seasonal trends."
Walkley believes that the unit sales of Nokia will drop from 431.8 million in 2009 to 332 million by the end of 2013. Motorola Mobility's sales will also decline from 55.1 million to 27.3 million by 2013. The sales of RIM will also decrease from 52 million in 2011 to 26.9 million by the end of next year.