Google Instant: Review
DCI
Like instant food, it is instant Google. Made for the swift in mind, it is the latest, the most brilliant and the much talked about. It is search at rocket speed. It is search with Google Instant.
The latest buzz among people of the world wide web is Google Instant.  Google has dominated the minds and hearts of internet users for years. And it has proved itself again by Google Instant.
What is Google Instant? Google Instant is Google's instant search feature which acts as a tool to help users find information in the quickest way possible. It displays results even before you can type. Yes, in a way, it is hyper-suggestive. Results appear as you type, for every letter you type. This immediate feedback helps us refine our search and find what we require instantly. As a result, we save our time and explore relevant search results.
How it works: The concept of Google Instant is somewhat similar to Google Suggest – when you start typing your keyword in the search box, Google Instant automatically displays the results for a popular search of that letter/word you type. That is, before you finish typing and press enter, you can see the relevant web pages in your search results.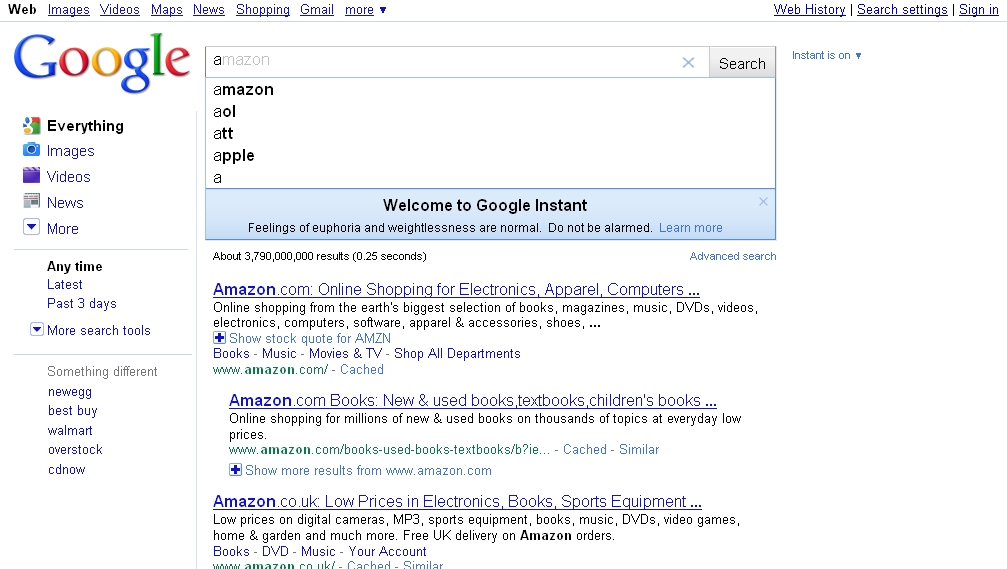 Google's algorithm tries to predict the rest of the query which might be based on frequent or a popular search used by millions of its users. These predicted terms are highlighted in light Grey color in the search box and search results are shown automatically for that predicted query.
With Google Instant, Google Search is faster than ever after. It allows internet users find the relevant search within 10-15 seconds. But this service is available only to the users who are logged into Google. The Google Instant has taken Google Search to the next level.
Why Google Instant?
It's instant:  Google Instant predicts your search and shows results even before you can  finish typing and that saves 2-5 seconds per search.
It's smart:  Google Instant predicts what you look for even if you don't know exactly what you're looking for. And these smart predictions guide your search. The topmost prediction are highlighted in Grey color.
You can scroll to search:  With the help of  down arrow key you can scroll through every suggestion offered, while the results page automatically updates as you keep moving along.
Google Instant shows that Google is very particular reigning the web search space. With Google Instant, the search giant is now way ahead of its competitors!