A View So New: Google's New Technicolor Search
DCI
Finally, the change has happened in Google Search. Google has come up with some brighter colors and graphics to give a colorful look to its search engines. It has made search more user friendly with the addition of the sidebar. It looks similar to Yahoo search where you get to see sidebar with related resources.
So what makes the Google new technicolor version different from the current version? Let's take a look:
Logo Changes:
Google has done some minor changes to enhance the look of logo – the logo has got a fresh look with lively colors. Shadow/Emboss effect has been removed to increase in the intensity of colors and the bland search button has been enhanced and changed to blue. Advance search and language tools links which were right after the text box have been removed.
Layout Changes:
There are major changes in the layout. Top navigation links for Google services has been moved to left sidebar. If you look at the images below, the default layout comes with the sidebar in the new version. It is no longer like an expandable option. Another significant change is, Google services are categorized into Everything.
Current Layout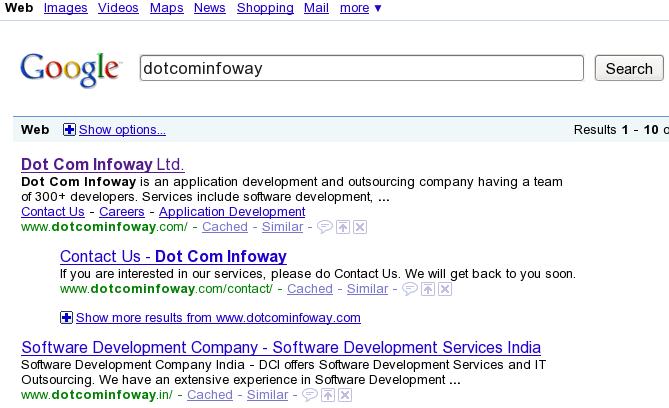 New Layout
When you click more, Google services expand as shown below. And, unlike in the current version, 'Show' options is an optional sidebar. Take a look at the search result in the current layout, you would not find the links above the website URL are not underlined as shown below: Contact Us is now Contact Us. Also the Advanced search link, which is right next to search button has been replaced with the number of search results found for the particular keyword
Current Layout (for comparison purposes)
Google has began testing their new web layout. So, you will not be able to have a glimpse of Google's new look for some point of time. Who knows, Google search in the future may have a three column layout with sidebar, content(search results) and advertisements.