Google Warns Users of Internet Shutdown on July 9
DCI
The search giant Google has issued a warning to its users in the U.S. and the U.K. that there might be an Internet blackout on 9th July, 2012 due to a computer virus.
According to media sources, the FBI detected the virus and has set up a safety network a few months ago using government computers, to keep running the infected systems without disruptions. But it will shut down the service on July 9 as a cost-cutting measure.
The FBI has been running a campaign for months to create awareness of the virus and is informing users to visit a site to check out whether their system is affected or not. Google has now joined the campaign as a measure to help the FBI.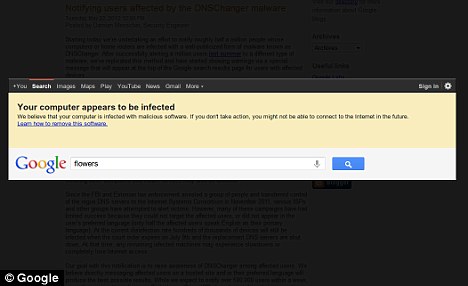 A Daily Mail UK report said, "The Internet search-engine giant will set up alerts visible to the roughly 350,000 PC users with infected computers when they use its search results page as a warning that their machines have an invisible, undetectable 'Trojan' computer virus called DNSChanger."
The DNSChanger virus is capable of modifying DNS settings to make use of malicious servers that would redirect users to illegitimate and dangerous sites. Worst of all, it can change the DNS settings of routers as well, spreading the virus from one computer to the entire network.