MySpace Keeps Losing Users
DCI
comScore's latest report on social media states that MySpace has been losing users steadily.
According to it, Facebook is still dominating the social media space with 166 million unique visitors. With 35.4 million unique visitors, Twitter maintains the second place and LinkedIn enjoys the third position with 34.9 million unique visitors. MySpace got just 24.9 million unique visitors last month. However, still it has got more traffic than Google Plus and Tumblr.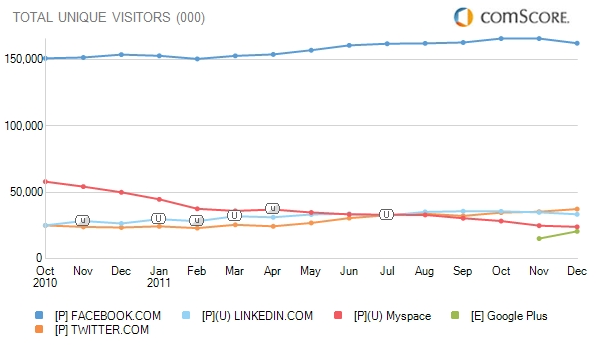 MySpace was launched in 2003 and had become one of the biggest social networking sites. In 2005, it was acquired by Rupert Murdoch's News Corporation and in 2006, it reached 100 millionth account. Since then its influence has been in steady decline  and over the last twelve months it has been losing 10 million members a month.
MySpace is looking to pull things back with MySpace TV, its new initiative with Panasonic.
Dot Com Infoway helps clients market their products/services through cost-effective Internet Marketing and Social Media Marketing solutions. To get a free quote for these services, contact us.