Tablets Will Be the Primary Computing Devices: Forrester
DCI
Tablet sales are expected to increase by 46% reaching around 375 million by 2016, according to a recent report by Forrester Research's market analyst Frank Gillett. He also predicted that there will be around 760 million tablets in use by 2016.
Gillette believes that tablets will become the most preferred and primary choice of computing device by millions of people worldwide within the next four years. He published a report titled 'Tablets Will Rule The Future Personal Computing Landscape' recently.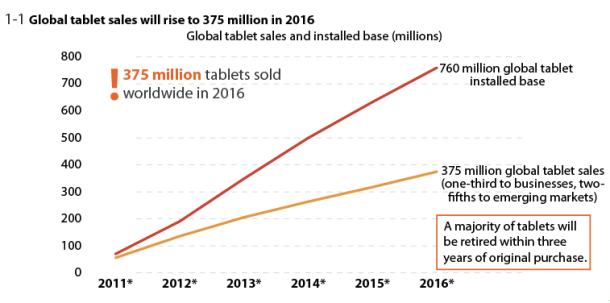 He mentioned in the report, "We forecast sales rising from 56 million in 2011 to 375 million in 2016. Given that a majority of tablets will be retired within three years of purchase, we forecast that there will be 760 million tablets in use globally by 2016. One-third of these tablets will be purchased by businesses, and emerging markets will drive about 40 percent of sales."
Gillette believes that the Android operating system will see a decline in its market share while Apple's iPad will hold one-third of the tablet sales by 2016.
Tablets are expected to slow down laptop sales but it will increase the sales of desktop PCs, as many workers will require a large display or significant processing power for creative work at a desk.
Gillette wrote in the report, "Over the next four years, tablets will gain new sensors, processing power, and better wireless capabilities for connecting with nearby devices."