Twitter Usage Doubles in U.S. : Report
DCI
A new report from Pew Internet revealed that the number of daily Twitter users in the U.S. has doubled since May 2011 while the total percentage of Twitter users among adults has increased by 2% at the same time.
According to the latest report on Twitter usage by Pew Internet & American Life Project, the overall percentage of online adults who use Twitter has increased to 15% as of February 2012 and it was 13% in May 2011.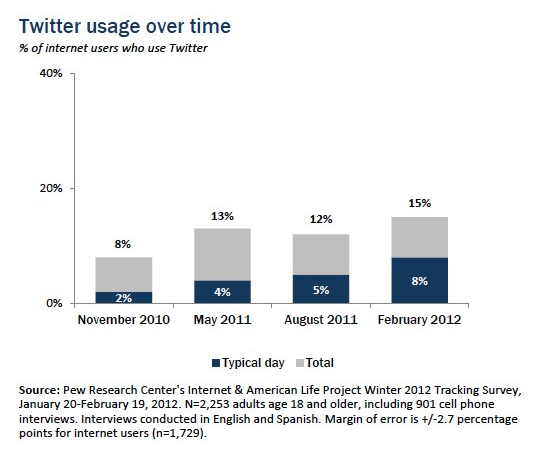 The number of daily users using Twitter has quadrupled since November 2010. It was 2% at that time and according to statistics in February 2012, 8% of online adults use Twitter daily. The report suggested that the increase in the daily usage of Twitter is due to the rise of smartphones and statistics revealed that one in five smartphone owners use Twitter regularly.
The report also read, "Those ages 18-24 are not just the fastest growing group when it comes to Twitter adoption over the last year – they also experienced the largest increase in smartphone ownership of any demographic group over the same time period."
Another interesting fact is that Afro-Americans and the people in and around the urban areas in the U.S. access Twitter at high rates.
The report was based on a telephonic survey with 4507 adults aged 18 and older.