| | | | |
| --- | --- | --- | --- |
| | | | July has been a month of exciting developments and learning, and a calendar filled with activities. We took part in an exhibition organized by mBillionth that facilitated a highly-enriching and comprehensive exchange of knowledge & ideas, and gave us a better understanding of the diverse |
| | |
| --- | --- |
| | needs of clients. As an exhibitor, we had an overall positive and successful experience, and the event helped us acquire new customers, and renew our ties with existing clients. This newsletter provides a glimpse of the latest news, developments, and events happening at DCI. Happy reading! |
| | |
| --- | --- |
| | Exhibition Stall in mBillionth |
| | | |
| --- | --- | --- |
| | | We participated in mBillionth by showcasing our products, services and digital innovations in an exhibition organized as part of the one-day event. Held at India Habitat Centre in New Delhi on July 18, 2014, the expo |
provided us with significant opportunities to benchmark ourselves against leading IT service providers, boost the profile of our firm, and interact with potential customers.

The exhibition, which had stalls set up by about 100 exhibitors from South Asia cutting across the entire mobile gamut of producers, service providers, and application developers, received a phenomenal response. Visitors were able to meet us at stall 23 and communicate with our experts. DCI''s activities and achievements in the industry attracted great interest, giving us the opportunity to present our initiatives and efforts in completed and ongoing projects, and establish business collaborations.
| | |
| --- | --- |
| | Spiritual Bliss Magazine – iOS App Marketing |
| | | |
| --- | --- | --- |
| | | Spiritual Bliss celebrates the wonders of spiritual awareness, enlightenment, healing and positivity. It offers guidance and inspiration on a variety of topics, and plenty of interactive content that can impact readers' lives |
and wellness. DCI's mobile marketing team worked on helping the app capture its target audience and gain more downloads. Our efforts succeeded in helping the app retain its #1 ranking in the Entertainment category, and secure a #17 ranking in the Newsstand category, in the App Store (US).
Request for similar services
| | |
| --- | --- |
| | Forix Web Design – Pay Per Click (PPC) Marketing |
| | | |
| --- | --- | --- |
| | | Forix Web Design based in Portland, OR offers e-commerce, web design & development, mobile app development, and digital marketing services. The client approached us for help in attracting the highest quality of traffic to the site. DCI is working on a |
precisely-targeted PPC campaign that will increase the click-through rate and conversion rate, and enhance the ROI.
Request for similar services
In this Month's Issue

Featured Video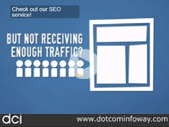 Top 4 Digital Marketing Trends In 2014
This presentation offers an overview of how consumers access and interact with content through various channels. It lists the ways in which marketers can track the pulse of consumers, and accordingly decide on the tools and techniques to enhance their cross-channel programs and improve engagement…
Hands-On Equations 1 Lite – iPad App Marketing
Hands-On Equations 1 Lite is an educational app that presents an innovative way to teach, understand, learn, and master algebraic equations, and sharpen logical thinking skills. The client, Borenson and Associates, Inc., approached us to launch and promote the app. Our multi-channel marketing efforts focused on creating awareness, enhancing the app's popularity, and boosting its downloads. Hands-On Equations 1 Lite secured a #5 ranking among the top free apps in the Education category and an overall ranking of #134 among the top free apps, in the App Store (US).