| | | | |
| --- | --- | --- | --- |
| | | | June has been a month of incredible growth for our team! We kicked off the month with some hiring activity, successfully wrapped up a few projects, and launched an infographic. The first half of the year has been financially rewarding, and allowed us to truly shine |
| | |
| --- | --- |
| | in our creative pursuits. Our plans are well underway for the months to come, and we will be focusing on achieving new highs and goals in all our endeavors. This newsletter provides a glimpse of the latest news, developments, and events happening at DCI. Happy reading! |
| | |
| --- | --- |
| | Infographic on Successful App Development & Promotion |
model for developers and creative hopefuls, the infographic is composed of foundational notes and operational checkpoints, and tips for general success. The information we''ve presented, which is based on our expertise and collective experience, will help app creators ensure that all their bases are covered so that they see substantial returns on investment for their creative pursuits.
Recent Hiring Activity
| | | |
| --- | --- | --- |
| | | DCI participated as a recruiter in the Tech Hunt Job Fair 2014 on June 22, 2014 in Theni to showcase the career opportunities available in the firm. The turnout of recruiting organizations and students was high, providing ample opportunities for students from various |
fields of study to connect with representatives from organizations across sectors. Conducted by Time Management Institute, the job fair helped us welcome new talent into our workforce.
Find out about career opportunities at DCI.
| | |
| --- | --- |
| | Akshaya India – Pay Per Click Marketing |

| | |
| --- | --- |
| | Akshaya India Tours & Travels (P) Ltd. is a tour operator and travel agent based at Chennai, India. The firm adopts a proactive approach to travel requirements and has established itself as a reputed concern offering multi-product travel services. The client approached us for help in increasing the number of quality business leads, reaching more potential customers, and keeping the cost per click low. The challenge was in prioritizing keywords and ad groups based on a combination of highly searched-for terms and high profit margins, to ensure maximum ROI. Our efforts succeeded in helping the client experience an average of 53 conversions per month through the Google AdWords campaign. |
In this Month's Issue

Featured Video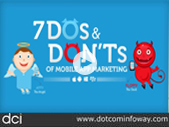 6 Steps to Create a Successful Social Media Strategy Plan
Every business, be it a well-established brand or an up and coming start-up, knows that social media is an essential part of a solid business strategy. A social media strategy does not simply involve setting up accounts across various platforms and expecting your customer base to magically increase. Just like with any other business plan, a social media strategy requires…
ZOE NT LITE – iPhone App Marketing

ZOE NT LITE is a fun game of strategy that tests players' knowledge of the Bible, and helps them learn the Scriptures through deep thinking, memory, and meditation. It has options to chat, search for random players, and search for friends. Our team worked on helping the app capture its target audience and gain more downloads, and the client was impressed with the results. Request for similar services.