| | | | |
| --- | --- | --- | --- |
| | | | May has been a month of breakthroughs and big successes. Our relentless efforts over the past few months have seen the opening of a brand new chapter in our corporate history. It gives us immense pleasure to announce the launch of our innovative mobile app, Cash On Apps, which pioneers a new way for Indian |
| | |
| --- | --- |
| | users to discover great apps and games, while earning incentive. This newsletter provides a glimpse of the latest news, developments, and events happening at DCI. Happy reading! |
| | | |
| --- | --- | --- |
| | | It has been quite a month for us, with a big project of ours suddenly striding forward. Cash On Apps, the cornerstone for DCI's future growth and prosperity, was launched at our development center in Madurai. Designed to streamline, simplify and |
speed up the process of app search, this unique platform presents users with the best apps from around the world. It also opens up a whole new world of fun, connection, and inspiration by rewarding users with mobile credits for the apps they download, which can be redeemed as mobile recharge.
Conceptualized with the intent of giving users an innovative platform for browsing new apps, and earning mobile credits along the way, Cash On Apps combines the two most vital things in the mobile world – useful apps and mobile minutes.
Get a free download of Cash On Apps.
| | |
| --- | --- |
| | Best SolutionWeb Hosting – Search Engine Optimization |
| | | |
| --- | --- | --- |
| | | Designed to provide in-depth information about various service providers, Best Solution Web Hosting helps users make a hosting purchase for their needs and get their websites online easily. Our team is working on promoting the site with the help of the |
best SEO techniques, to help it gain better reputation in search engines, and to optimize its visitor traffic.
Request for similar services.
| | |
| --- | --- |
| | Vintape – iPhone App Marketing |
| | | |
| --- | --- | --- |
| | | Vintape is a vintage cassette player application that takes users back to the analog age. It allows them to organize songs into different playlists to create mixtapes, select cassette skins, enable/disable tape hiss and do a lot more. |
Our mobile marketing team worked on helping the app capture its target audience, widening its reach, and boosting downloads. The app secured a #66 ranking in the App Store (US) in the Music category.
Request for similar services.
| | |
| --- | --- |
| | Burning Bubbles Lab – iPhone App Marketing |

| | |
| --- | --- |
| | Burning Bubbles Lab is a bubble-shooter game in which a scientist at a chemical lab has to eliminate colored, toxic bubbles in groups of three. While enjoying this multi-leveled gaming experience, users can also compete against thousands of challenge missions created by other users. All our promotional efforts were focused on increasing the app's exposure and maximizing its downloads. To our client's delight and ours as well, Burning Bubbles Lab was featured in the 'What's Hot' section across multiple stores and there was a significant increase in the number of app downloads. |
In this Month's Issue

Videos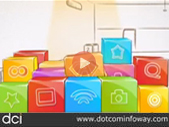 Top 6 Tips to Get Your Content Shared
Getting your content shared is essential for anyone engaged in online marketing of any kind. Going "viral" is the goal, but it's harder to achieve than you might realize. Truth be told, there's no golden rule, no magic bullet, that guarantees your content will go viral. In fact, most marketing experts have no idea why one post goes viral when another doesn't achieve that critical mass. However, while viral spread might be the Holy Grail of online marketing, creating content that gets shared is more important…
5 Effective Ways to Monetize Freemium Apps
App monetization is a hot topic today. More and more app developers are finding that their users don't want to pay to download an app – they want it free, and they're willing to suffer through advertising and other marketing methods to get that free price point. In fact, free apps routinely outperform paid apps in all categories save a couple (business utilities and navigation). Does that mean you're doomed never to make a profit from your efforts? Not at all. Freemium has become the new standard, and some experts expect it to account for up to 93% of the global app market in just a few years…