| | | | |
| --- | --- | --- | --- |
| | | | September has been a big month for us. We have been very busy in a lot of places, and had some exciting progress on the business front as well. Between attending industry events and working on expansion plans for our Android app, Cash On Apps, we have launched our own magazine for mobile apps titled Apps World Mag. This newsletter |
| | |
| --- | --- |
| | provides a glimpse of the latest news, developments, and events happening at DCI. Happy reading! |
| | |
| --- | --- |
| | Participation in The Global App Summit 2014 |
| | | |
| --- | --- | --- |
| | | We were a part of The Global App Summit (TGAS) 2014, held on October 1-2, 2014, at Jumeirah Beach Hotel, Dubai. We were among the 75 premium exhibitors taking part in the expo to showcase our innovations in the mobile app space. This global multi-platform event helped us connect with technology leaders and identify new business and networking opportunities. |
It was a great venue to gain insights from industry experts on translating business requirements into technical solutions. Plenty of visitors met us at our booth to learn more about the business solutions we provide. We received inquiries from many app developers, some of whom have shown interest in working with us for app promotions.
| | |
| --- | --- |
| | Apps World Mag Hits the Newsstands! |
| | | |
| --- | --- | --- |
| | | We've come up with a publication exclusively for app aficionados! Apps World Mag is a brand new tech magazine that focuses predominantly on apps. It features the latest news and events, trends, recent launches, big name interviews, reviews, articles, and advertisements from app developers and marketers. It also showcases noteworthy gadgets, smartphones, and innovations |
to provide access to informative and entertaining tech updates on the go.

Apps World Mag has been designed to cater to the likes of tech-savvy readers who look to keep up with the pulse of the mobile app industry. This monthly magazine is sold in India in print, and is available on key digital platforms for global audiences. To make a splash, we chose The Global App Summit 2014 for the launch.
| | |
| --- | --- |
| | Tally Board – iOS App Marketing |
| | | |
| --- | --- | --- |
| | | Tally Board is an addictive number/puzzle game that is great for both children and adults alike. It challenges players' number skills, reasoning, and strategy skills. The app features cool chalkboard graphics and sound effects that pop. Our mobile marketing team |
In this Month's Issue

Featured Video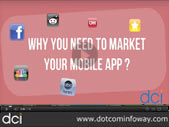 Google's Pigeon Update and Other Algorithm Changes
This presentation talks about the purpose of each algorithm introduced by Google. It provides crisp, yet informative descriptions on each algorithm, the impact it had on the SEO industry and online publishing as a whole, and what needs to be done to recover from a Google penalty.
6 Tips to Market Your Brand via Pinterest
Pinterest is an excellent platform to promote your business and make your brand's online presence strongly felt. This presentation explains how to go about promoting your brand through Pinterest, and offers tips to boost marketing efficiency.
Forix Mobile – Search Engine Optimization (SEO)
Forix is a mobile and web development company headquartered in Portland, Oregon, that engineers a wide range of mobile applications for the iPhone, iPad, BlackBerry, Android, and Windows Mobile platforms. The client approached us for assistance in building a search engine optimized website that could help the business grow. Our team of SEO experts came up with a strategy to optimize the client's website, Forix Mobile, for the targeted keywords, to help it gain a better ranking in search engines, attract traffic, and enhance its online visibility. Forix Mobile has seen a marked increase in the count of organic visitors and leads generated.