10 Tips to Boost Engagement & In-app Conversions to increase App Retargeting ROI
DCI
Many web developers must either hire marketers or develop marketing plans that include methods to boost user engagement. However, in doing so, there are other strategies such as retargeting that should also be a part of your overall marketing strategy. Retargeting using desktop devices has already been implemented and put into place for years. It is now considered a mature, proven form of marketing where after site visitors visit your site, retargeting cookies are added to their browser. From that point ads begin to follow visitors as they continue to browse through the Internet.
On the other hand, retargeting using mobile devices is a lot different. Mainly because cookies are not used to identify visitors like they are with desktop computers, and they do not work with apps. So how's the app marketing agency & developer to take advantage of this very effective strategy?  First of all, the purpose of mobile retargeting is not only to get more mobile users to install the app, but it's also designed to get app users to make purchases inside of the app as well as start using installed apps again.
In order to increase user engagement, a good mobile app retargeting campaign needs to be developed that include strategies that enhance engagements.  If you are a marketer or an app developer, below are 10 tips to boost engagement and in-app conversions to increase app retargeting and ultimately increase ROI.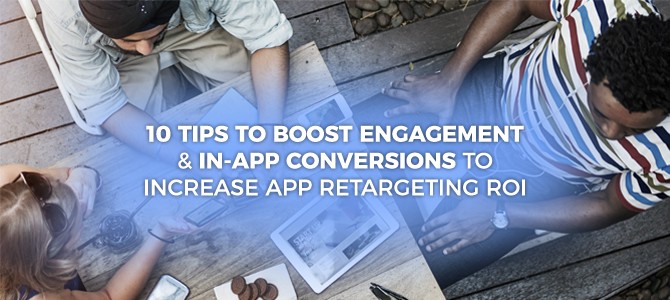 1. Careful Market Segmentation Planning
Although it may be easy to create the same marketing messages for all of your app users, it will be much more effective for you to segment your audience based on their profiles and their demographics. This way you're not using the same marketing messages for everyone. This is important because different users likely have different user needs and are at different stages within the app lifecycle.
2. Know and Match Offers to the Right Personas
Be sure to match the right offer with the correct marketing message as it relates to your retargeting campaign. They should be grouped by market segment as well as by your campaign goals. Creating and monitoring user Persona will assist you with developing marketing messages that connects specifically with a particular audience.
3. Implement Smart Deep Links
There are two types of Smart links that marketers can use; one of which results in a higher conversion rate than the other. There's the basic deep link and there's the newer smart deep links.
Although they both link to specific in-app landing pages and both provide a fallback that sends users to the App Store to download the app if it isn't installed on the users device, the smart deep link app has the ability to launch directly into your in-app landing page right after the installation. The basic deep link is limited on the other hand, it only provides a launch to the homepage of the app.
4. Determine Which Key Performance Indicators Are Most Suitable For Your Marketing Strategy
It's important to know what key performance outcomes or indicators (KPI) are associated with your retargeting campaign and conversions. In doing so you will be able to better analyze each conversion goal that you set out to achieve.
5. Select the Right Mobile App Vendor
Marketers need to be sensitive to selecting the right retargeting vendor when developing their retargeting campaign. They should also be familiar with the two different platforms that mobile users have the most access to. They are
The mobile apps
The mobile web
Marketers and app developers should make sure that when developing their campaigns that they are able to place retargeting ads with vendors who can accommodate both platforms.
6. Track Your Ads
It's very important to include methods that track and analyze campaign performance. Otherwise it'll be difficult to properly measure which app performs better than others and which platform is more effectives. It's important to track things such as
Retention
Installs
Revenue
Other areas
Additionally using only one vendor allows you to track easier by having all of your data in one place. App developers and marketers can test which apps performs better as well as test their market segment on one platform as well.
It's also important that you use organized, strategic testing methods in advance, along with knowing what kind of information you'd like to obtain from each test in advance as well.
7. Become Familiar With and Implement Ad Best Practices
As an advertiser and marketer it's important to become familiar with both the creative side and the technical side of marketing based on the type of device you will be launching your ads on. For example become familiar with the best practices when implementing marketing strategies using a smart phone versus launching ads campaigns using in using tablets.
8. Consider Using In-App Landing Pages
One of the things that is very critical to your campaign's bottom line is your in-app landing pages. It's where your app is launched once users tap or click on it. In order to be effective, these landing pages should be consistent with your current marketing messages, visual aids, images and your call to action.
You may also consider testing different types of landing pages to see which one performs the best, while maintaining great focus on your campaigns core values and mission.
9. Identify the Best Frequency to Use for Ad Impressions
It's important that you become familiar with your audience so that you know how many ad impression they should see. This depends mainly on the different types of users you have, the type of app you are offering and the offer itself. One strategy is to begin by using a lower frequency, then slowly increasing in frequency until you notice that there's no longer an improvement in performance.
10. Identify and Stick With the Best Outcomes
It's important to carefully analyze your marketing campaign and the various outcomes so that you can determine which strategies within your overall campaign are more effective than others.
Also, try to avoid making abrupt improvements, but rather make slight incremental changes to improve your campaign.
To conclude, since mobile retargeting is still pretty new, there are methods that are still being tested, and even new ones that are still being created on a daily bases. As a result, it is important to be aware of the best methods that are most conducive to your campaign that will provide you with the best results possible.
Related Articles: