Joomla! Development
Joomla!™ is a highly-acclaimed Open Source Content Management System to publish content on the Internet, Intranet or for deployment over MVC web application development framework. Joomla! has an unmatchable extensibility to support a simple web solution as well as an enterprise-level web solution, even with a language internationalization attribute. Globally, it remains as the highly-recommended system to develop event-driven web solutions like E-commerce / Online Shopping Cart solutions, Classified / Listing sites, News Flashes, Job Portals, Forum / Message Boards, News Blogs / Sites, Image Database sites, Help / Support suites, Map Feed sites and many more.
Joomla! development at DCI
Dot Com Infoway's Joomla! development team has the capability to develop simple to massive web solutions using Joomla!. Our Joomla! developers are blessed to play with this CMS framework's prominent features. Since this Open Source is supported by numerous followers, contributors, and developer communities, the resources for independently developed modules are vast. Our Joomla! developers have the knowledge to design and develop every inch of your website, from content addition modules to image uploads. We can even establish your online reservation counter with Joomla!.
DCI's Joomla! web development service includes
Joomla! Websites/Portals development
Custom Design Templates
Joomla! Modules Development
Joomla! Components Development
Intranet and Extranet Development
Design Integration
Module Installation
Joomla! Portals / Websites Maintenance
Joomla! E-commerce / Online Shopping Website Development
Visit our web development portfolio to get a picture of our expertise in different web development services. To know more about our Joomla! development services and get a quote for your project, click here
---
What Our Client's Say
When a company works on a project as if its their own you know they care. Their technical expertise is 2nd to none. They offer much more than value for money. I wouldn't work with anyone else and I would recommend them to the world! No project is too big or too small. I can not imagine working with anyone else. They helped me out at a very difficult and personal time, for which I will always be grateful. They're number one! Thanks a million guys.
Dot Com Infoway is the company who did my website. I highly recommend DCI. Just identify a few sites that look like what you want and they will design accordingly.
We always use G and his staff at DCI. We have lots of requests and they are always willing to go above and beyond to meet our needs. I highly recommend them.
This is the 3rd time that we have used DCI to design and develop a high end website for us; once again they have continued to exceed our expectations in every way, shape and form. On this occasion DCI delivered an incredible website faster than expected and even cheaper than anticipated. Guys thanks again for all your hard work.
Another GREAT job! This group continues to provide quality work and in a very timely fashion. Going the extra mile has also been a courtesy and for a small company like us that has been very important. HIGHLY Recommended!
---
Check Out the Related Services
Latest Updates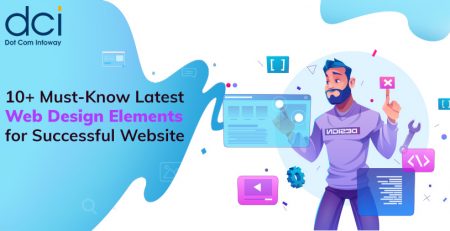 Your website development agency, assuming with one, isn't joking... read more
eBook and Guide
Content marketing is not what it was yesterday. Today's trend demands fatter content in the form of ebooks, infographics,... read more
Developers are aware that the app market is saturated with millions of apps, and standing out from the lot... read more