CMS Development Agency
Scalable and cutting-edge CMS-based web development services for businesses of all sizes.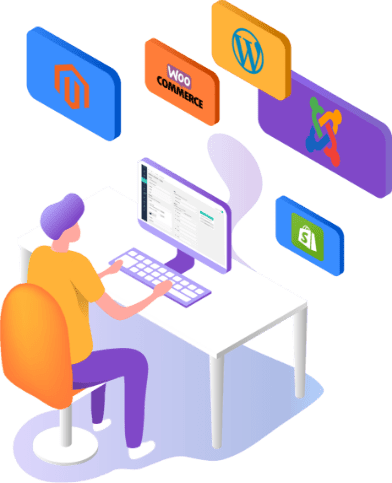 CMS Web Development
Being the Best CMS Development Agency, we provide CMS web designs with a completely customized, fully-branded layout that seamlessly adjusts according to screen dimensions. Cost-effective. Faster turnaround time. Cutting-edge technology that is easy to upgrade. Additional modules according to your requirement. As a leading CMS Web Design Company, we create websites that can be easily managed and you can update the content on your own after deployment with ease.
---
CMS Development Services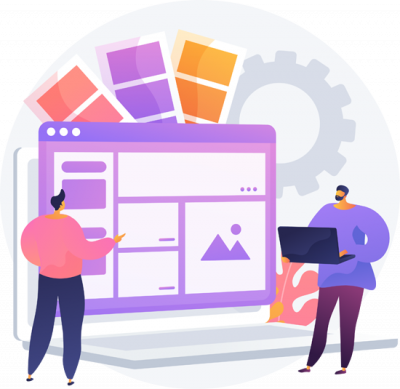 CMS Website Design
As a dynamic CMS development agency, we can design stunning layouts for the CMS of your choice. We can design custom templates with complete organizational branding including your logo, color scheme and even the desired content layout. We have an expert team with extensive experience developing UI/UX that easily scales according to the screen size.
CMS Website Development
Looking for the best CMS web development company? We can build your complete website using mainstream CMS platforms including WordPress, Joomla!, Magento, Shopify and WooCommerce. Whether you want to publish an informational website, an e-commerce website or even a mobile app, our team of CMS developers can tailor the web development solution accordingly. Our CMS website development services include the complete design and layout as well as customizing the back-end of the framework. Our development team is adept at deploying superior websites using all contemporary CMS platforms. We can use all contemporary CMS website development tools to design and develop high-performance websites for your business.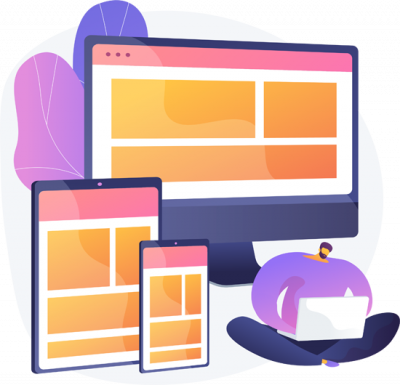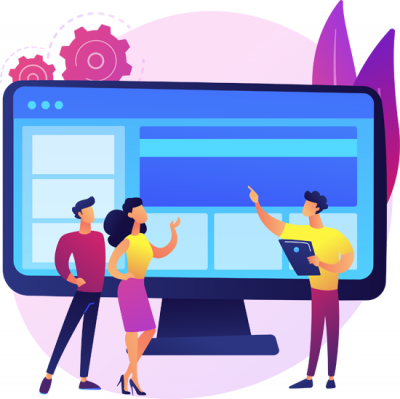 Customization
We are a 360-degree CMS development agency. Along with design, development and deployment, we can also provide you complete CMS customization services that may include making structural changes to the CMS platform. Although a typical, contemporary CMS these days comes with all the features you're ever going to need to manage a website, every business has unique requirements and this calls for customization in terms of design, layout, and even the dashboard section that may have different components compared to the regular CMS setup. We can do programming. We can do UX/UI design. We can also build custom add-ons for the CMS of your choice.
Custom CMS Integration
Do you want to integrate the CMS you're planning to use with your existing SaaS enterprise solution or even with another website or another CMS that you are already using? We have made a name for ourselves for being a highly dependable custom CMS development company. We can help you with custom CMS integration. We can make the data and the information communicate with each other. We can establish secure connections with your legacy systems so that your CMS can automatically draw information from existing data. Complete integration with all mainstream CMS frameworks.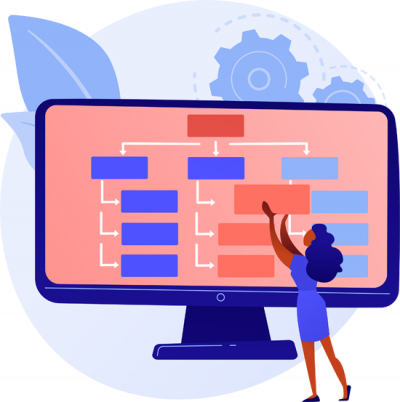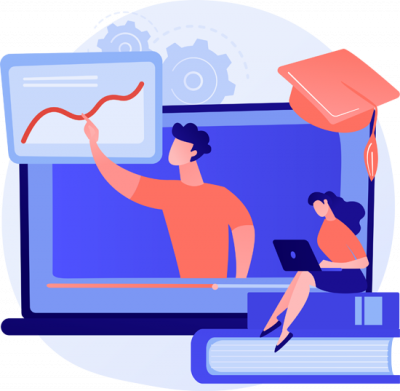 Migration to another CMS
Are you looking for a CMS development agency that can help you with migrating your existing website to a mainstream CMS? Whether you want to migrate existing websites to a CMS or you want to bring your website into one CMS from another (from Drupal to WordPress, for example, or from Magento to Shopify), a CMS development team can help you with that. Migration to a better CMS or migration to a CMS that has the features that you need, brings opportunities as well as challenges. An expert team like ours can help you with a smooth transition with all your data and layout intact.
Support and Maintenance
You may require CMS support and maintenance at multiple stages. Maybe you want to change the layout. Maybe you want to integrate the shopping cart CMS (WooCommerce) with your existing informational CMS (WordPress). Maybe you want a custom add-on or a plug-in for the CMS. Or you want to spruce up security of your IT infrastructure. You want to have a mobile friendly CMS website including your shopping cart. In whatever manner you require CMS support and maintenance, our experienced IT team can provide it to you.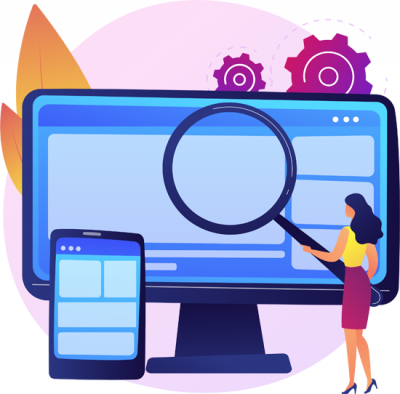 ---
What's Your Choice of CMS Platform?
WordPress CMS Development
With 60.8% CMS market share, WordPress is the most widely used CMS. Primarily known as a blogging platform, 14.7% of the world's top websites are using WordPress as a CMS. As an experienced WordPress development agency, we have extensive experience helping businesses and large enterprises leverage the power of WordPress to set up and maintain websites using the platform. We can make stunning, liquid layouts that look marvelous on any screen size. We can make changes to the core structure of WordPress using PHP, HTML and CSS. We can develop custom plug-ins and add-ons to extend the capabilities of your WordPress setup. We can build WordPress themes from scratch or customize existing themes. Basically, we know WordPress like the back of our hand.
Joomla Development
Over 9% of all known websites are managed using the Joomla! CMS. It has a 6% of the CMS market share worldwide. When you want to build or develop a website using one of the most powerful CMS platforms, you need to work with a team that has tamed the power of Joomla!, multiple times. We have decades of experience building and developing websites using Joomla! for our global clients. We can make structural changes. We can enhance the security of your Joomla! CMS setup. We can build Joomla! themes from scratch. We can write new features and new add-ons for Joomla! using PHP and JavaScript libraries. Want to use the full power of Joomla!? Then you should certainly work with our Joomla! web development team. We also provide Drupal web development.
Magento Development
You use the Magento CMS if you want an e-commerce website. It's built on open-source technology that provides you great flexibility over the layout, the content and the functionality of your storefront. All over the world more than 250,000 merchants are using Magento as their primary e-commerce CMS. We can help you with complete Magento set up and customization. We can enable mobile commerce capabilities. We can help you create multiple storefronts with a single Magento installation. We can customize your dashboard to enable you to add or create a catalogue of products that you want to sell through the CMS. Your Magento setup will smoothly work on desktop PC, laptops and tablets and mobile phones. It being an open-source e-commerce platform, there is no limit to the way you can change the source code, and this is where our programming team can help you. If you want to extend the capabilities of the Magento CMS, we can help you with that too.
Shopify Development
Shopify is a SaaS-based e-commerce platform that allows you to set up an online retail store without having to install any software locally or on your server. Unlike Magento, you don't need to install a framework. You can simply log onto the Shopify website and start creating your store and adding your items. Shopify has many features that are not available in other e-commerce CMS systems, and this is why many entrepreneurs choose Shopify over other CMS solutions. If you want to run a branded e-commerce store, you need a web development team that can incorporate the Shopify features either into your existing website or within the Shopify system. You may also want to migrate your existing the e-commerce setup into the Shopify ecosystem.If you want to use Shopify as your ecommerce CMS platform, we can develop custom themes for your online store, we can embed the Shopify shopping cart into your existing website and we can also integrate it with your current e-commerce mobile app.
Woocommerce Development
WooCommerce is a WordPress plug-in. If you want to create your shopping cart within WordPress or within your current WordPress setup, then WooCommerce is the perfect solution for you. If you're looking for a WooCommerce development agency, you will find perfect partners with us, with our extensive experience working with WordPress installations and its myriad plug-ins. We can help you leverage various capabilities of WooCommerce including themes, extensions, API integrations and custom shopping cart features. When you decide to use WooCommerce for your online store, you need an intuitive web interface to enable your business to perform secure checkouts, make payments and get more encouragement through your up-selling and cross-selling campaigns that can be easily facilitated using the WooCommerce setup. You can also incorporate Google analytics to study search engine traffic for particular product categories. We can design and develop a WooCommerce e-commerce store from scratch or make changes to your existing setup. We have a dedicated team of developers that has worked on numerous WooCommerce-powered online retail stores.
Why hire us as your CMS development agency of choice?
Experience

– We have vertical & horizontal experience designing, developing, and deploying diverse CMS-powered websites both for informational as well as e-commerce purposes. Our CMS-powered websites perform equally well on desktops as well as mobile browsers. We are a CMS development company that always exceeds the expectations of its clients.

Expert, Dedicated Team

– Looking for an expert, dedicated team to augment your current staffing requirements? Being a premier CMS development agency, we have a team of CMS web developers that can be assigned to your project on an immediate basis. From CMS theme development to branding and customization to back-in programming, all our team members are experts in their fields. They can work remotely as well as on-site.

Popular CMS Platforms – The popular CMS platforms a team has worked on include WordPress, Joomla!, Drupal, Magento, Shopify, and WooCommerce.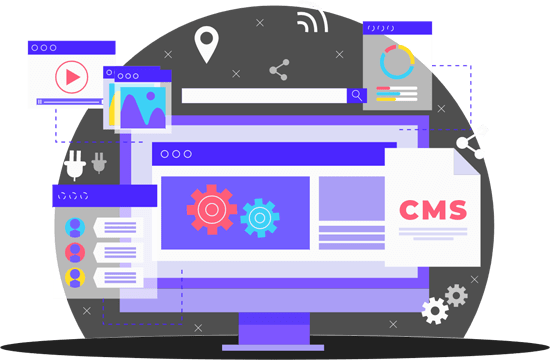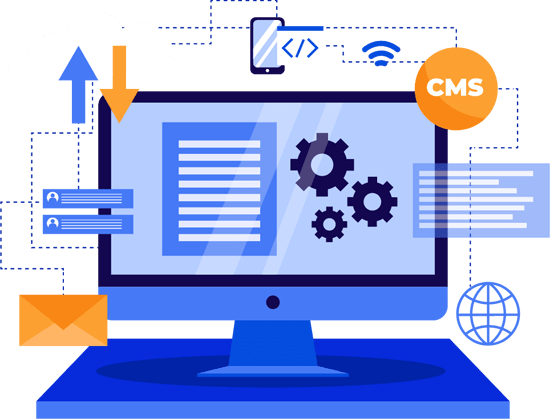 Customized consulting

– Looking for real-time guidance on your ongoing or upcoming CMS web development project? Our team has got extensive experience having spent years helping businesses and enterprises set up thriving CMS informational websites as well as online retail stores. They can help steer your efforts in the right direction and ensure the success of your CMS web development project.

Tools and Skills Set

– All the mainstream CMS platforms are built using PHP, HTML 5, CSS 3, and cutting-edge JavaScript libraries. All our developers are extremely comfortable using these technologies. They can help you extend the capabilities of your CMS platforms. They can create themes from scratch. They can also add new features and modify existing features of your CMS.

Dedicated Developers

– We can easily assign dedicated CMS web developers and web designers to your ongoing project on a long-term basis. They willfully devote their time to your project and ensure that world-class expertise is available to you, round-the-clock if required.
WOW!!! Thanks AGAIN! 50 stars would still be too low for DCI. This is the third project our corporation has trusted with "G". Once again, this team of designers & programmers has BLOWN AWAY EVERYONE… DCI is easily the most talented & most cost effective choice. They will receive ALL of our business from here on out.
We have worked with other programming teams, and Dot Com Infoway is significantly superior in both ability and attitude. The clearest indication of our experience is that they are working on two more projects for us and we have asked for a quote on two more. Their pricing is fair and competitive. They are also very reasonable people who are easy to do business with.
Through their excellent technical and management skills, they created a superb solution. The portal went live and attracted users quickly. Dot Com Infoway always delivered on time and answered questions promptly. Their deep knowledge and responsive communication made the project run smoothly.
They deliver excellent work and are very coordinated. Through a seamless workflow and their ability to adapt to the region's culture, Dot Com Infoway delivered a website that has positively boosted the company's visibility and sales.
The new website boosted clientele and helps to attract donations from around the world. Dot Com Infoway's team was easy to communicate with, was receptive to changes, and quickly understood the project's needs. Their stellar customer service and creative ideas make them a highly-recommended vendor.
Dot Com Infoway's team inspires confidence because of their collaborative approach and genuine interest in the project.Dot Com Infoway's ability to adapt to our working style was remarkable.
Dot Com Infoway is full of dynamic programmers who cater to their client's specific needs. Their team takes the time to listen to input and modify work when needed. Customers can expect a supportive group committed to adapting to their client's workflow.
DCI worked very hard to create what we had envisioned for our company's redeveloped website. Not only were they very knowledgeable and efficient in their work, but they also offered their suggestions and creative ideas time and time again throughout the process of adding numerous pages and features to our website. We were very impressed with the quality of work, customer care and meticulous attention to detail.
I've been working with them for 15 years. The most impressive thing is probably their ability to stay within the original estimate. I know that's remarkable in any business. When vendors run into problems that take more time, they usually find a way to charge somebody else for it.
Our project was a little more complex than typical projects for some of the companies that we spoke to. We send companies a basic guideline of the projects you want to build, and they send back a feedback saying whether they can accomplish it. With Dot Com Infoway, they basically said they could do it, so that itself is a positive sign. Their strength is their engineering team and how they worked together. We had some challenges along the way, and they were able to overcome them.
Get a
Quick
CMS Development Consultation for Your Upcoming Project
Before taking the next step would you like to know in detail how a CMS Development Company creates a dynamic presence for your business? Get a quick consultation today with our CMS Development experts.
---
Check Out the Related Services
Latest Updates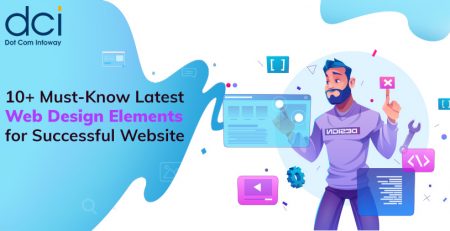 Your website development agency, assuming with one, isn't joking... read more
eBook and Guide
Content marketing is not what it was yesterday. Today's trend demands fatter content in the form of ebooks, infographics,... read more
Developers are aware that the app market is saturated with millions of apps, and standing out from the lot... read more