CMS Web Development
Scalable and cutting-edge CMS-based web development services for businesses of all sizes. Completely customized, a fully-branded layout that seamlessly adjusts according to screen dimensions. Cost-effective. Faster turnaround time. Cutting-edge technology that is easy to upgrade. Additional modules according to your requirement. Best of all, manage your content on your own after deployment.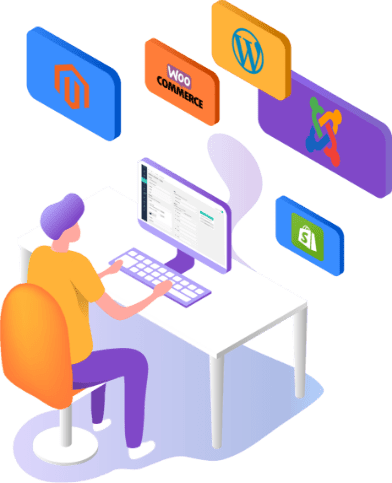 What's Your Choice of CMS Platform?
WordPress CMS Development
The massive reach of WordPress CMS in the field of blogging is undeniable. Gradually, CMS developers have realized the alternative use of a multipurpose Content Management System like WordPress. It provides easy-to-use features, beautiful templates to use in website development. Over the Internet, millions of websites are using WordPress as their favorite CMS backed by the numerous WordPress developers forum and websites that offer tons of free WordPress web templates and customizable modules.
Joomla Development
Joomla! is considered one of the most powerful Open Source Content Management Systems. It is used all over the world for both simple website development to complex corporate web applications development. It is very simple for both technical and non-technical users to add, edit, update content and images, and in handling the important data in a Joomla! site.
Magento Development
Get a robust e-commerce website and sell to worldwide customers. Magento-powered websites are fully hosted. The entire framework resides on your server and hence, you have complete control over data as well as design. Full shopping cart integration. Payment gateways and digital wallets. Content management includes product catalogue as well as blogs and webpages. Social media engagement features. Get an appealing and attractive online retail store by partnering with a highly experienced Magento development company. From installation to design to deployment and even maintenance, a total turnkey Magento development solution.
Shopify Development
Shopify is a remotely hosted e-commerce platform that can be integrated into your website system to turn your website into an e-commerce workhorse. All your shopping cart catalogue exists on the Shopify servers. You don't have to worry about the security of your data as it is taken care of by Shopify. We provide complete Shopify integration services. Beautiful and appealing designs. Completely secure e-commerce platform. Payment gateway and digital wallet integration. We can implement the Shopify APIs on your existing website layout or build the layout from scratch. Our programmers can build you a Shopify-powered website that is search engine friendly and social media ready.
Woocommerce Development
A highly powerful open source e-commerce plug-in for WordPress, our programmers can quickly create your online retail store with complete branding incorporation. Whether you want e-commerce development for your existing website or you are looking for Woocommerce development from scratch, we can scale our development and programming services accordingly. Woocommerce gives you a highly intuitive design that is search engine optimized but you need a capable team to leverage its power. You get all the contemporary e-commerce features that work well in browsers and on mobile phones. Woo your customers with our Woocommerce development services.
Content Management System
Developing and maintaining a website is a difficult task for almost every business that doesn't have an in-house web development department with expertise in Content Management Systems or even a few skilled CMS developers. But defective or out-dated information can cost a company in numerous ways. The finest solution you need for maintaining your corporate website will depend on the intensity and complexity of modifications in your CMS.Content Management System (CMS)
A Content Management System is a web application that makes content authoring and content delivery easy. It enables even non-technical users to efficiently build a website, streamline the web publishing procedures and quickly deploy them, creating a content-rich website. Dot Com Infoway's CMS web development solutions allow small start-ups to build simple and robust websites and large organizations to construct and automate the massive content that needs to be deployed on their corporate website.
Open Source Web Content Management Solutions
Many Open Source CMS tools look easier but technically, they need several expert CMS developers to customize and enhance websites, so that they can be made suitable for all kinds of requirements.
Dot Com Infoway's CMS developers have vast expertise in several Open Source CMS platforms to build web solutions that can be as robust as enterprise level websites. To learn more about DCI's CMS web development services, PHP CMS web development services or to hire CMS developers, to submit your CMS web development needs, click here.
Dot Com Infoway has several experienced Open Source PHP CMS developers to work on all major Content Management Systems like Joomla!, WordPress, Mambo, Drupal, osCommerce, DotNetNuke and Pligg CMS. Choose the most apt CMS web development platforms listed below, according to your needs.
---
Featured Projects
Buy Auto Parts
DCI




---
WOW!!! Thanks AGAIN! 50 stars would still be too low for DCI. This is the third project our corporation has trusted with "G". Once again, this team of designers & programmers has BLOWN AWAY EVERYONE… DCI is easily the most talented & most cost effective choice. They will receive ALL of our business from here on out.
We have worked with other programming teams, and Dot Com Infoway is significantly superior in both ability and attitude. The clearest indication of our experience is that they are working on two more projects for us and we have asked for a quote on two more. Their pricing is fair and competitive. They are also very reasonable people who are easy to do business with.
Through their excellent technical and management skills, they created a superb solution. The portal went live and attracted users quickly. Dot Com Infoway always delivered on time and answered questions promptly. Their deep knowledge and responsive communication made the project run smoothly.
They deliver excellent work and are very coordinated. Through a seamless workflow and their ability to adapt to the region's culture, Dot Com Infoway delivered a website that has positively boosted the company's visibility and sales.
The new website boosted clientele and helps to attract donations from around the world. Dot Com Infoway's team was easy to communicate with, was receptive to changes, and quickly understood the project's needs. Their stellar customer service and creative ideas make them a highly-recommended vendor.
Dot Com Infoway's team inspires confidence because of their collaborative approach and genuine interest in the project.Dot Com Infoway's ability to adapt to our working style was remarkable.
Dot Com Infoway is full of dynamic programmers who cater to their client's specific needs. Their team takes the time to listen to input and modify work when needed. Customers can expect a supportive group committed to adapting to their client's workflow.
DCI worked very hard to create what we had envisioned for our company's redeveloped website. Not only were they very knowledgeable and efficient in their work, but they also offered their suggestions and creative ideas time and time again throughout the process of adding numerous pages and features to our website. We were very impressed with the quality of work, customer care and meticulous attention to detail.
I've been working with them for 15 years. The most impressive thing is probably their ability to stay within the original estimate. I know that's remarkable in any business. When vendors run into problems that take more time, they usually find a way to charge somebody else for it.
Our project was a little more complex than typical projects for some of the companies that we spoke to. We send companies a basic guideline of the projects you want to build, and they send back a feedback saying whether they can accomplish it. With Dot Com Infoway, they basically said they could do it, so that itself is a positive sign. Their strength is their engineering team and how they worked together. We had some challenges along the way, and they were able to overcome them.
---
Latest Updates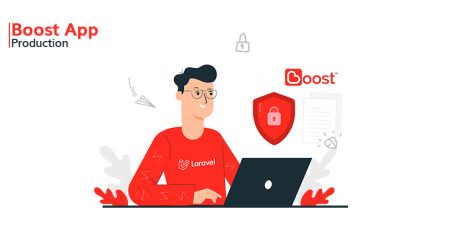 Laravel remains as a consistent front-runner among developers when... read more
eBook and Guide
Content marketing is not what it was yesterday. Today's trend demands fatter content in the form of ebooks, infographics,... read more
Developers are aware that the app market is saturated with millions of apps, and standing out from the lot... read more