The Game Marketing Guide: Pre and Post-Launch Strategies [Infographic]
Venkatesh C.R
It's not what you sell that matters as much as how you sell it. This is the ancient rule of marketing that has forged many lucrative empires. It's a concept that holds especially true for some of the most successful mobile gaming franchises that we know and love today.
For example, Fortnite is an amazing third-person shooter game, hands down. But it's not the gameplay or concept that propels its success rather it's the effort that goes into marketing. Last year alone, the company spent more than $100 million on advertising. Their faith was more than rewarded, realizing 10X as much in ROI. From PUBG Mobile and Pokémon Go to Candy Crush and Clash of Clans, the highest-grossing titles got to where they are through astute game marketing.
In this infographic, as the best game marketing agency, we reveal the best-kept secrets to help you join this elite group. We'll hold your hand pre- to post-launch, with tips to fast-track downloads and revenue for your game. Take a look at the latest gaming industry statistics and effective strategies for a successful launch:

---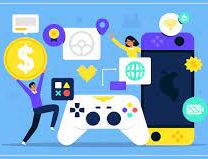 Explore Your Game Marketing Needs with Experts
Get in touch with our game marketing agency to discuss your gaming project's marketing needs. We offer a complimentary consultation to help you achieve your goals
 1,  How can you strategically position your game for success in the continually expanding gaming industry of today?
Identifying key target markets

Creating well-crafted and customized messaging

Developing ads that deliver the right message at the right time

Ensuring that your website is optimized
2, What Is the Best Way to Market a Game?
 Reach Out To Trending Influencers

Gaming influencers use their popularity and vast influence to promote new gaming products, services, and accessories

Although the game influencer market hasn't stopped growing (in 2024, it will be worth $16.4 billion)

 Create Video Content

91% of brands rely on video for marketing

 Build An Online Presence

More than 4.5 billion global internet users are searching for anything and everything online

Join Social Media
65% of social media users play games frequently
 Cross-Promote Your Game

Companies that implement cross-promotion strategies have reported an increase in revenue of up to 30%.

Make A Simple Website

A study by Newzoo found that 60% of gamers discover new games through online searches, emphasizing the importance of website SEO

 Get Reviews

93% of download decisions are swayed by online reviews
3,  Pre-Launch Marketing Activities
Game Teasers

Generate hype with teaser trailers and posters

30 seconds is the average duration of a game teaser trailer

Social Media Buzz

59.9% of gamers potentially have a social media account

3.2 billion social media accounts belong to gamers

15% of all YouTube content is about video games
Beta Testing

Helps to engage players and gather feedback

41% of gamers may not download a game if it has bugs
Press Releases

Share gaming content to the press release websites

68% of brands report better product visibility with press releases
4, Day Launch Marketing Activities
Countdown Event

The clock icon creates anticipation

 Countdown event timers can improve conversions by 432%
Digital Storefronts

Distribute the game across premier app marketplaces

$932 billion is the projected revenue across app stores in 2023

Early Access

Reward loyal fans with early access

The most popular early access game attracted over 29 million users
5, Post-Launch Marketing Activities
Community Engagement

Maintain an active presence on forums and social media

Games that have active gamer communities experience increased player retention
Player Reviews

Encourage players to leave positive reviews

Games with good player ratings rank higher on digital app stores  

Updates and Patches

Enhance gameplay with regular updates

Successful brands update their apps for every 14 days
6, Post-Launch Analytics
User Data

Analyzing player habits helps to identify what motivates gamers

Revenue Growth

Player Retention

Measure and improve player retention

 32% to 66% is the average retention rate for successful apps after 30 days

Feedback Integration

Implement player feedback for ongoing improvement
Game marketing is key to success
The vast majority of new games fail to turn a profit, with only 0.5% of all applications becoming successful. Furthermore, 68% of all new games end up amassing fewer than 1000 downloads. Game marketing is essential to turning the odds in your favor, and positioning your new game for success.