IoT Software Development Services
IoT for All Communication Protocols
All Internet of Things solutions depends on their ability to communicate across multiple communication protocols. Whether you want your devices to be able to communicate through Wi-Fi, GPS, Bluetooth, ZigBee, LTE, NFC, or IEEE 802.15.4 (just to name a few) as the best IoT app development company, we can create your IoT solutions to enable devices to exchange information with practically all contemporary devices and appliances.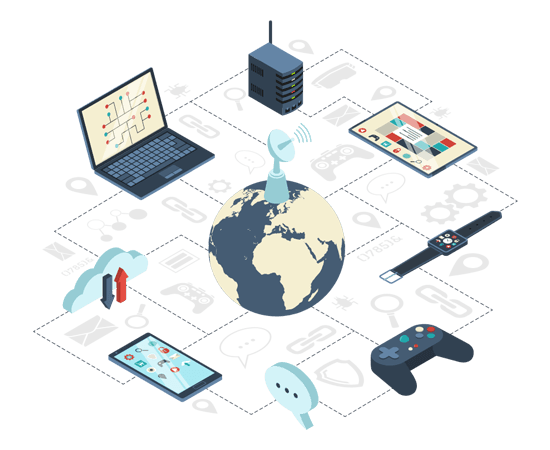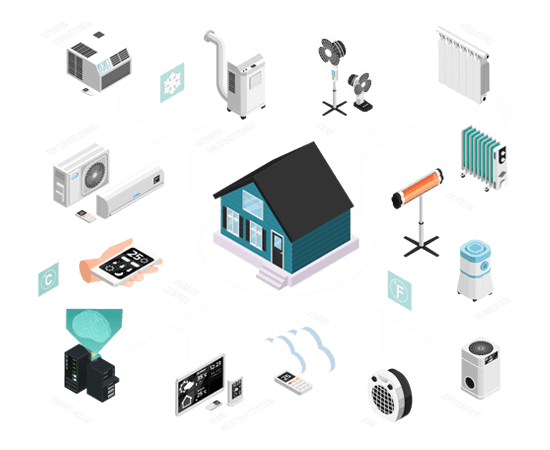 Automate Every Business
Our advanced IoT development services can get your commercial appliances and workplace gadgets talk to each other and automate your tasks.
Let your electrical appliances talk to your mobile phone and help you save electricity bills at office and industrial units.

Let your industrial equipment transfer related data to your inventory systems so that orders are placed automatically.

Let your industrial refrigeration system tell your mobile phone that you are running out of supplies.
From complex industrial technologies to service-based interactive interfaces, we can build IoT systems for every need and situation.
Unique IoT Apps for Your Business
With our tailor-made IT software applications you can automate the process of reaching out to more targeted customers, answering queries of your existing customers and clients, connecting your devices to each other so that they can perform crucial functions in a timely manner, and let all your intelligent devices access corporate data from a single source and then perform individual functions with greater efficiency.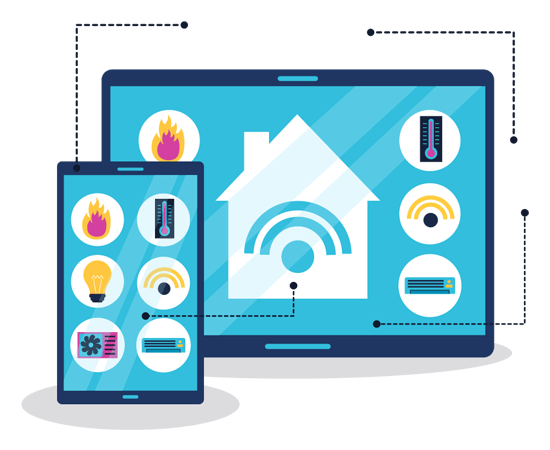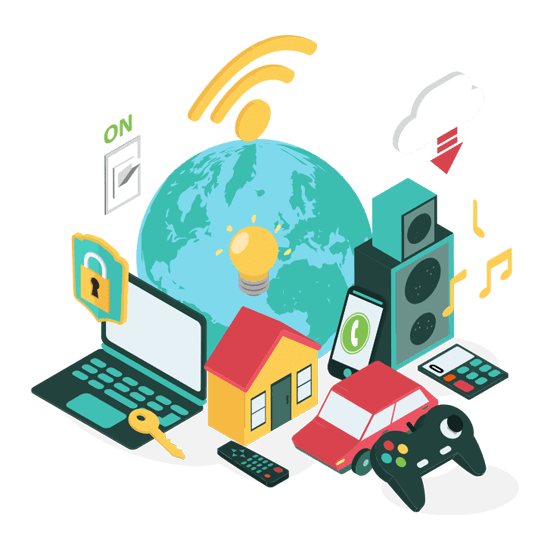 IoT Development Services for All Major Sectors
The Internet of Things environments can be built for all major industrial and commercial sectors including banking and finance, e-commerce, supply chain management, healthcare, BPO, manufacturing, logistics, information technology, automotive, retail, commuting services, marketing and advertising, hospitality, and all other industries where machinery, equipment, appliances and devices need to exchange information with each other to give their best.
The Different IoT Components That We Can Build for You
Artificial Intelligence
Big Data Integration & Analysis
B2B Integration
API Development
Event Processing
Device Connectivity
Pattern Detection
Remote Device Management
Cloud Services
Visual Analytics
Electrical Distribution
Surveillance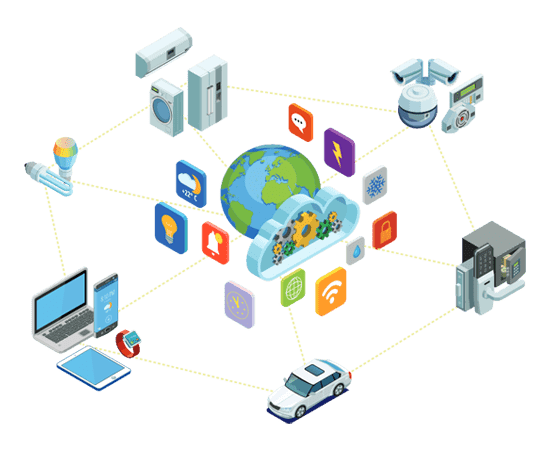 ---
Why Choose DCI for Your IoT Development Needs?
When it comes to developing cutting-edge solutions, DCI is placed at the cusp of the technological advances the world of information technology is making. If there is a need for an IT solution, we can build it for you.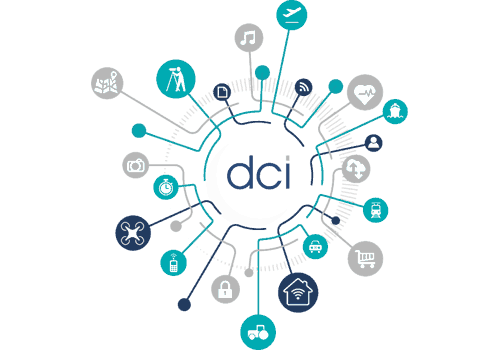 Best IoT app development company with highly trained and experienced team of IoT developers.

In-depth understanding of the Internet of Things and its potential for business and industrial use.

The ability to provide IoT solutions for a wide spectrum of industries and services.

Highly tailored solutions according to your needs at affordable prices.

Time-tested solutions with cutting-edge technology.

Integration with legacy applications, appliances and devices.
---
We Serve
End-to-end Mobile Development for startups and enterprises.

Startups
We understand how daunting it must feel to set foot in this highly competitive world of apps. But, bid your worries goodbye because we are here by your side.

Enterprises
Looking to build an app that keeps up your market image, and also delivers the results? We are the ones you can rely on to make your app scale new heights.
Type of Working Model
At Dot Com Infoway, we focus on two major types of working models.

Fixed Cost
Our fixed cost model is where we agree upon a predefined sum with our clients and they do not need to pay anything more than the agreed price, in the process of working.

Our dedicated model is suggested for the long-term projects that offer us original goals but rapidly changing scopes. You can be assured that the prices will remain affordable for both the models.
We Build
Our strength also lies in the variety and range that we deliver.

Customer Apps
If you want customer apps that draw in users, with glorious reviews that announce your arrival in the scene, then DCI is the company that you need with you.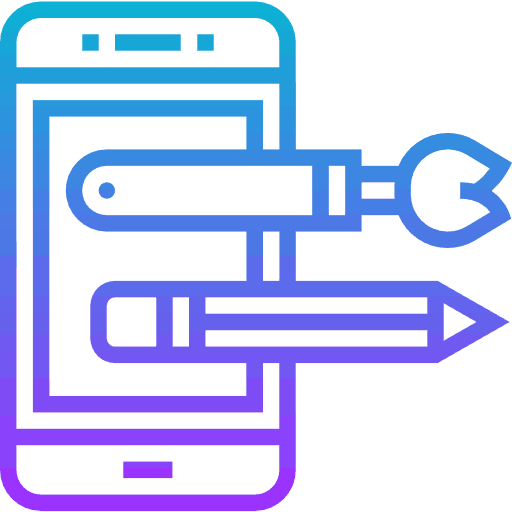 When your target audience are the members and ancillary parts of your organization, you need an app that speaks for you and that is exactly what we deliver.
---
Mobile App Solutions Across Verticals
We will take your business ideas from conceptualization to a well-loved app on Apple's App Store and Google Play
---
Extensive Track Record of Our Mobile App Development Services
---
Featured Projects
Healthinary
Monisha Kumar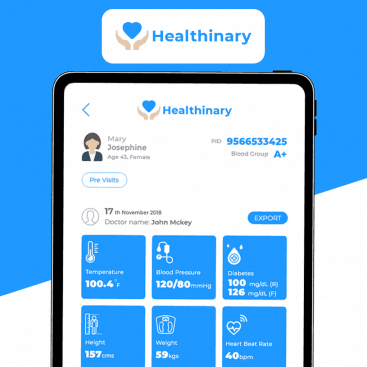 Healthcare App Development – Android
Healthinary
Mobile Apps Development




Electronic devices and appliances like fitness trackers, mobile phones, music systems, televisions, refrigerators, mobile phones, automobiles, manufacturing units and logistics equipment and machinery can be turned into smart objects with embedded technology and IoT software. The combination of software, circuitry and hardware can turn conventional appliances and devices into smart devices by enabling them to send signals, analyse those signals and then perform the preprogrammed function.
We offer the following IoT development services:
IoT application development
Writing software for making devices smarter
Data integration and analysis
Application integration
Integration of legacy applications with cloud applications
Predictive analytics
Surveillance communication
Device management
We work both remotely and on-site, depending on the need of the project and the preference of the client.
To set the ball rolling in the right direction we first offer you free consulting. This allows us to get information about your requirement and also eases you into hearing us out because there is no obligation involved.
To build an effective IoT system our team of developers will spend time with you interacting with you and collecting all the information about what you need and what is your current status. We will analyze whether your current infrastructure is IoT ready or not. We will make our recommendations accordingly. If you have a preference for operating system and communication protocol, we will prepare and IoT development strategy accordingly.
The basic idea is to understand what data your devices and appliances need to exchange with each other and what actions they need to perform upon receiving the information.
As one of the top IoT app development company, we offer both back-end and front-end IoT development services. We can develop both back-end, number crunching, highly complex embedded software applications and also visually appealing front-end interfaces and dashboards to make interaction with your devices a pleasure.
How much time we take to develop a typical IoT solution depends on your specs. Sometimes even a seemingly smaller IoT solution can have very complex implications, and vice versa.
---
Get a Quick Consultation for Your Next IoT Project
Want to know how an IoT app development company can help you create a future-ready IoT software and become a part of a digitally connected world? Quite simple, fill up this form for IoT consulting services!
---
Check Out the Related Services