Wordpress Development Company
WordPress is an Open Source application mainly for blog publishing and for basic Content Management, which can be easily customized, managed and developed according to a client's unique needs. Globally, WordPress is being used by more than 202 million websites and it remains as the second most popular blogging tool next to Blogger. WordPress is an absolutely flexible platform for integration and development of websites. WordPress has robust yet easy architecture, supporting custom templates, and custom plug-in modules to control blogging and manage blogs with websites. We are the top WordPress development agency in the USA & India to provide you with completely tailored custom web solutions.
WordPress Development Agency services at DCI
Dot Com Infoway is the top custom WordPress Development Company in the USA & India having profound experience in WordPress development and other Open Source CMS development. Our competent WordPress development Agency team is highly qualified in all aspects of WordPress blog customization and custom theme designing services. Let it be designing WordPress themes or incorporating your website's appearance into the CMS application, DCI has been involved in all services pertaining to WordPress CMS development. Our Content Management System development team is a critical department which offers search engine friendly sites / blogs that help clients compete and show their successful web presence.
DCI's WordPress Development services includes
WordPress Design and Integration
WordPress Blog Development
Open Source CMS Development
WordPress Theme Design services
Custom WordPress Blog theme
WordPress Implementation and Setup
WordPress Template Designing Services
To learn more about Dot Com Infoway's CMS development services and CMS design integration services, visit our Content Management System portfolio.If you are looking to Hire WordPress CMS Developers from top WordPress Development Agency or looking for WordPress customization services, submit your requirement here.
---
What Our Client's Say
This was my first experience dealing with Venkatesh and his group. I am extremely satisfied with all aspects of our dealings. They completed the project ahead of schedule and we very responsive to several changes we requested. I intend to use their services often. John Caski.
We have worked with other programming teams, and Dot Com Infoway is significantly superior in both ability and attitude. The clearest indication of our experience is that they are working on two more projects for us and we have asked for a quote on two more. Their pricing is fair and competitive. They are also very reasonable people who are easy to do business with.
We always use G and his staff at DCI. We have lots of requests and they are always willing to go above and beyond to meet our needs. I highly recommend them.
Children's Hospice Arts (chART) is absolutely delighted with www.chartuk.org! We provided the necessary inputs and the DCI team consulted us at every step, gave us some fantastic suggestions and worked with us to bring our ideas to life. I am particularly delighted at how the original designs we provided have been reproduced so closely and at how well the website functions! Feedback from visitors has stated that the website is very user-friendly, well-designed, fast, informative, colorful and it gets the charity's message across perfectly. What more could we ask for? I am happy with the professional, efficient and friendly service we received and chART has a website which we can be very proud of! Many thanks to DCI from all the chART trustees and team!.
I would recommend Dot Com Infoway due to the impressive way the company responded to our project needs, the methodology adhered to and timely delivery of work products. All done in a friendly and professional manner. Patience and understanding of the needs of our clients, readiness to accept and address modifications raised during UAT were all positively demonstrated.
Working with Dot Com Infoway has been a great experience, DCI's WordPress Development Agency team understood the challenges of the project, and we worked very closely in every step of the way to complete the project as planned. The leadership at DCI provided a great deal of support explaining the capability of the firm and also the cost involved in the project. I would recommend DCI to any company or entrepreneurs looking to outsource their project.
---
Check Out the Related Services
Latest Updates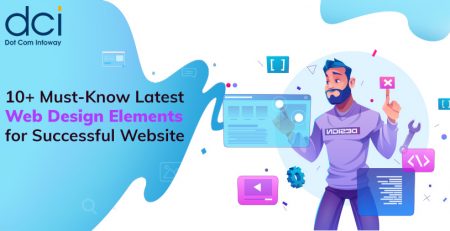 Your website development agency, assuming with one, isn't joking... read more
eBook and Guide
Content marketing is not what it was yesterday. Today's trend demands fatter content in the form of ebooks, infographics,... read more
Developers are aware that the app market is saturated with millions of apps, and standing out from the lot... read more