At DCI, we have teams specialized in distinct technologies and platforms. Simply opt for the relevant category and let our expert team create world-class solutions for you.
Our highly-trained developers have tons of experience in creating impeccable Android applications customized to suit clients' needs. Hire our Android Developers if you are looking for resources that could understand your business processes and create a robust application.
Apple product owners are just as discerning as the brand. You need nothing short of the best team of developers to build you a befitting iOS application. Relax, we have got your back!
Looking to hire .NET developers to create that perfect website for your brand? Well, you don't have to look any further as DCI offers proficient .NET developers who are not only masters in technology, but also have a keen aesthetic sense, too!
To best distinguish your brand from the clutter, your website must be out of this world! Give us a shout if you are looking for professional, experienced PHP developers who can craft a highly-responsive, engaging website in your budget
Our specially-trained WordPress developers can create a bespoke WordPress website for you with any customization that you may fancy. Get the power of WordPress with the goodness of a tailored website that is loved by the users.
Our Hiring Process
Hiring a DCI developer is quick and easy. Simply put your project request, screen resumes to find the best-suited candidates, interview the shortlisted ones, finalize the resource(s), and proceed to set terms and contract details.
Hiring Models
Dedicated Team
Get a dedicated team if you have multiple projects lined up or have projects that require ongoing work. We can help you hire a hand-picked team and also offer our infrastructure support dedicatedly for your projects. Of course, there wouldn't be any hidden costs, and you get to pay only for the actual amount of work done. You may get in and out of this monthly retainer service as per your requirement.
Fixed Price Model
For specific project requirements, you can opt for the fixed price model, where you pay a pre-determined amount for a specific set of deliverables. Get the freedom to cancel or upgrade the engagement at any moment, and choose to pay on achieving predefined milestones. The fixed price model is flexible enough to accommodate any of your project need!
---
Testimonials
Perhaps you don't have a good idea of the kind of application that would help increase your business engagement and sales. We have a team of experts that can develop a concept that will meet those needs.
One of the biggest problems that an app faces at launch is the competition. We will analyze your application concept and tell you just how competitive it is before development even begins.
---
Success Stories of Clients Who Have Trusted Us
Being an award-winning mobile app marketing company there are certainly more than one success stories. Do visit our "Success Stories" section to get a glimpse of what wonders we have worked with our marketing capabilities. The smiles on our clients' faces (or their messages of appreciation) are our greatest rewards.
News Crew Tracker
DCI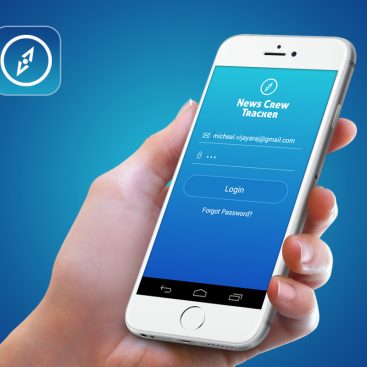 News Crew Tracker
Mobile Apps Development
App Summary – News Crew Tracker is a geo-location and assignment management tool developed and reviewed by journalists and photographers to solve the problem of not knowing where staff are located and what they're currently working on. Challenges – The client wanted to create a solution to facilitate work for media professionals through a location-based assignment management tool. The main challenge was to create a system on which journalists and other staff remained connected, and could locate or contact each [...]




---
Get Free Consultation
Have something special in your mind? Need some guidance on how you can turn your mobile app ideas into a reality? We can discuss your needs and help you get on the track to success with a completely free consultation.
Latest Updates
Dot Com Infoway (DCI) is a premier IT firm... read more
eBook and Guide
Content marketing is not what it was yesterday. Today's trend demands fatter content in the form of ebooks, infographics,... read more
Developers are aware that the app market is saturated with millions of apps, and standing out from the lot... read more