Drupal Development
Drupal is a well-acclaimed Open Source website Content Management system and is truly a robust web development framework which renders a streamlined environment to build, manage and leverage your brand's web presence. Globally, millions of small size business entrepreneurs, huge corporations, government institutions, non-profit organizations and universities trust Drupal to manage their corporate websites, online store-fronts, social networking websites, online product catalogs and more.Drupal Content Management system was written using PHP. Among other Content Management systems, it renders total control to the system administrator, empowering him in creating and organizing content, customizing the web presentation, and automating admin tasks.
Dot Com Infoway has the perfect team of professional Drupal developers and Drupal programmers having years of experience in modern web development technologies. Our Drupal developers have seamlessly customized and integrated a number of corporate websites. Not just development, our Drupal designers had delivered some of the tremendous designs to our clients. We are experts in developing community web portals, message boards, discussion sites, large business websites, intranet applications for corporate, personal blogs and websites, online shopping carts, e-commerce applications, web directories, social networking sites using Drupal CMS.
Why Drupal development
Drupal stands ahead with its unique functionalities. With your Drupal developed sites, you get number of facilities and listed below are some of them:
Internal search of site content
Best source for collaborative projects
Internal communication within the site
Easy to change off-the-shelf themes or custom-made ones
Provision for interfaces in the local language
You can use access rules denying access to specific user names, e-mail addresses and IP addresses
Possibility of highly-accurate statistics and reports to administrators
Easily manageable caching and throttling of site's performance under heavy traffic
Create clean web pages that could easily interact with search engines
Dot Com Infoway's Drupal development services include
Installation and Configuration
Custom Design of Drupal themes
Drupal Websites Search Engine Optimization
Drupal Module Development
Drupal Upgrades, Add-ons and Enhancements
Integration of Drupal CMS into your existing website
Website Design and Development
Drupal Development Consulting Services
Apart from the above, we offer Drupal optimization services and enhancements for your recently-created Drupal websites. To learn more about DCI's Drupal development services and Drupal CMS services, please submit your requirement, here.
---
What Our Client's Say
Working with Dot Com Infoway has been a great experience, DCI's team understood the challenges of the project, and we worked very closely in every step of the way to complete the project as planned. The leadership at DCI provided a great deal of support explaining the capability of the firm and also the cost involved in the project. I would recommend DCI to any company or entrepreneurs looking to outsource their project.
WOW!!! Thanks AGAIN! 50 stars would still be too low for DCI. This is the third project our corporation has trusted with "G". Once again, this team of designers & programmers has BLOWN AWAY EVERYONE… DCI is easily the most talented & most cost effective choice. They will receive ALL of our business from here on out.
This was my first experience dealing with Venkatesh and his group. I am extremely satisfied with all aspects of our dealings. They completed the project ahead of schedule and we very responsive to several changes we requested. I intend to use their services often. John Caski.
Children's Hospice Arts (chART) is absolutely delighted with www.chartuk.org! We provided the necessary inputs and the DCI team consulted us at every step, gave us some fantastic suggestions and worked with us to bring our ideas to life. I am particularly delighted at how the original designs we provided have been reproduced so closely and at how well the website functions! Feedback from visitors has stated that the website is very user-friendly, well-designed, fast, informative, colorful and it gets the charity's message across perfectly. What more could we ask for? I am happy with the professional, efficient and friendly service we received and chART has a website which we can be very proud of! Many thanks to DCI from all the chART trustees and team!.
Dot Com Infoway is the company who did my website. I highly recommend DCI. Just identify a few sites that look like what you want and they will design accordingly.
This company is fantastic. I keep coming back for more and cannot even begin to imagine starting my web based e commerce site without them. Project after project THEY JUST KEEP GETTING BETTER. Their staff is AAA++ customer service oriented and technically superb. Creativity overflows from them. And even though they are in India and I in Texas (USA) it was like he was next door! Actually even better as I didn't need to leave the office/house and we chat day after day. Let me tell you…YOU WON'T BE DISAPPOINTED. In fact you will be disappointed if you don't use he and his outstanding staff services. Ask him to show you our project. Go with Dot Com Infoway and you, I promise will not regret it! Stephen.
---
Check Out the Related Services
Latest Updates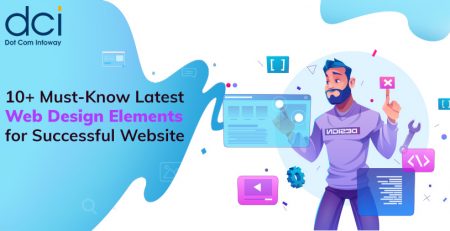 Your website development agency, assuming with one, isn't joking... read more
eBook and Guide
Content marketing is not what it was yesterday. Today's trend demands fatter content in the form of ebooks, infographics,... read more
Developers are aware that the app market is saturated with millions of apps, and standing out from the lot... read more