Collabr
DCI
Collabr Mobile Application Development Case Study
Download PDF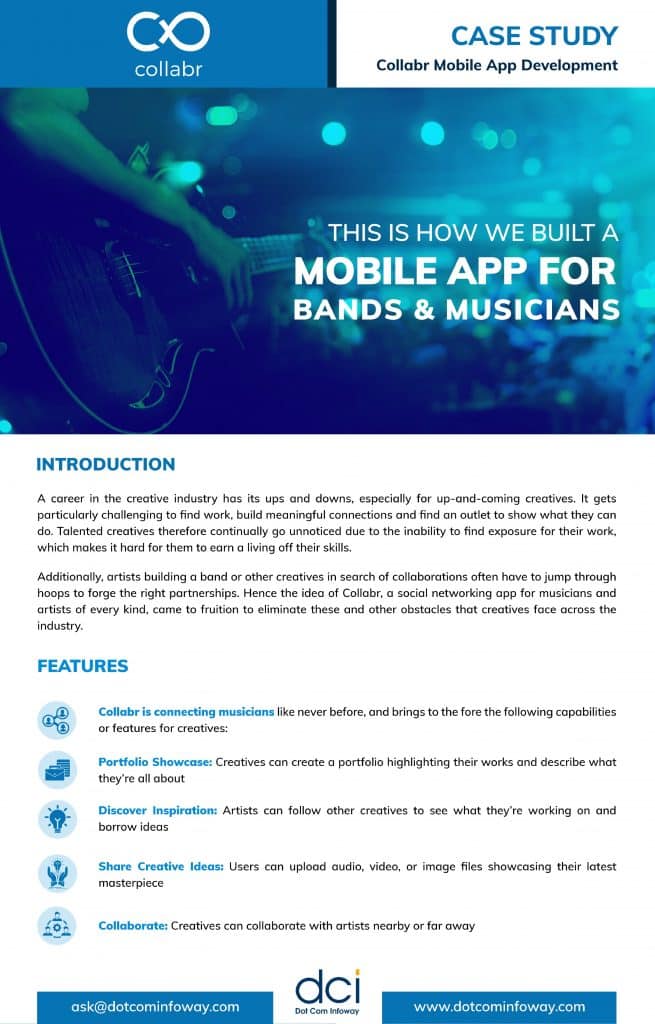 Introduction
A career in the creative industry has its ups and downs, especially for up-and-coming creatives. It gets particularly challenging to find work, build meaningful connections and find an outlet to show what they can do. Talented creatives therefore continually go unnoticed due to the inability to find exposure for their work, which makes it hard for them to earn a living off their skills. 
Additionally, artists building a band or other creatives in search of collaborations often have to jump through hoops to forge the right partnerships. Hence the idea of Collabr, a social networking app for musicians and artists of every kind, came to fruition to eliminate these and other obstacles that creatives face across the industry. 
Features 
Collabr is connecting musicians like never before, and brings to the fore the following capabilities or features for creatives: 
Portfolio Showcase: Creatives can create a portfolio highlighting their works and describe what they're all about

Discover inspiration: Artists can follow other creatives to see what they're working on and borrow ideas

Share creative ideas: Users can upload audio, video, or image files showcasing their latest masterpiece

Collaborate: Creatives can collaborate with artists nearby or far away 

Geolocation:

It is used to find friends, which means the user can search for others based on their location, We will locate the user's profile on google maps

Hashtags: Moreover, creatives can explore posts by hashtag to see what's trending or catch up on niche posts

Chat: This mobile app for bands & musicians also allows artists to connect and chat privately 
Challenge
One of Collabr's primary features was the ability for users to find other creatives by way of the geolocation feature. We identified this as the biggest challenge we needed to solve because it had to be implemented with a third party for chat, which brought a unique complexity to the project at hand. 
Other challenges we identified when creating this application for musicians include:
Design: Ultimately, the design we implemented had to reflect the creativeness of the community. It needed to mirror the easy, outgoing feel of a haven where creatives could be encouraged to share their work, be themselves and grow without limits

Security: Hackers tend to target apps like this with malicious underhand tactics meant to derail the user experience. We resolved to use advanced measures to stop this from happening

Loading time: Since the app was going to incorporate multiple users on a map via geo-location, we were also conscious of the fact that these large data transactions could lead to long loading times
Proposed solution
Here at Dot Com Infoway, our solution follows a methodical and strategic two-phase approach that has always excelled many times over. We implemented a two-step formula as follows: 
Phase 1 
Phase one is always about making sure our developers are on the same wavelength as the client in terms of objectives, functionality, and the final outcomes of the project. 
Platforms: iOS, Android
Here's what we did during phase 1: 
Elicitation: We had a one-on-one session with the client to better outline the scope of the project, according to the client's and end-users expectations

Prototyping: At this point, we implemented a prototype and wireframe for the Collabr app. This gave the client a good perception of the potential outcome before we set the ball rolling in terms of development

Onboarding setup: we also shared with the client animated onboarding screens so they had a feel

of what to expect
Phase 2
During this phase, we moved into the design process. This only happens after everything in phase 1 is in order, and the client has approved our prototype. For Collabr, the client was pleased with the wireframe so we moved to breathe life into it by taking the following measures: 
First, we implemented and revised the UI designs to ensure the app had a nice and laid-back feel to it

Then we devised a validation process for signup and went ahead to implement a guest user option

We further implemented pagination to ensure swiftness even when the system was exchanging massive data

To thwart hackers, we implement captcha verification and other advanced technologies to preserve an excellent user experience and app speed

We also fixed a few bug fixes and ensured the app was glitch-free

To make the audio and video player more user-friendly, we also implemented a couple of aesthetic and functional revisions

Then we moved to implement Admob so that we could monetize the app for our client
Results
We successfully deployed the Collabr application to the PlayStore and Apple app store. It has a strong rating on the Google PlayStore and enjoys similar success on its opposing store. Today, Collabr has linked thousands of talents around the world, helped creatives find gigs, and continues to be a game changer for lesser-known creatives. Our client was very pleased with Collabr, and we would like to thank them immensely for making this social media app possible.