DMK – Mobile App Development Case Study
DCI
DMK – Mobile App Development Case Study
Download PDF

Dravida Munnetra Kazhagam is an Indian state political party in the state of Tamil Nadu and Union Territory of Puducherry. Dravida Munnetra Kazhagam formerly called as DMK in India was led by late Dr.Kalaignar Karunanithi. DMK is one of the most dominant ruling parties in South India for the past several decades. DMK is now lead by Mr.M.K.Stalin.
DMK portal aims to have the complete party structure inside the application that will ease the communication, planning and activities process which would bring better performance for the overall party members.
Each and every module of this portal and application follows the structured administrative hierarchical model. Highly efficient database is integrated to handle bulk amount of data.
Development of an Android mobile application so as to maintain and keep track of a huge volume of information about the party, its members and the activities associated with the party.
DMK member portal Objectives Diagram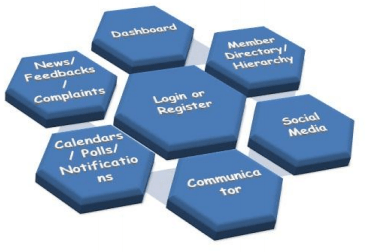 DMK App is a complete package and a one-step solution which would enhance the performance and interaction of all the members of the party.
Proposed Solution for App:
Splash Screen
Multilingual App (English and Tamil)
User Registration
Member Registration
Communicator
News section
Social Media Integration
Polls page
Feedbacks and Complaints
Payment Gateway
Media
Our first challenge was to handle huge amount of data which needs to be processed across different modules.
Defining and implementing complex hierarchy structure was yet another milestone.
Data broadcast within the app and across different social media following the administrative hierarchical structure is quite demanding.
We used technology such as splitting the table and optimizing the code to handle bulk amount of data to be dynamic and more operative.
We collaborated with DMK party to develop a fully responsive app by assigning the hierarchy defined to be "Role-wise".
We provided intuitive solutions for dividing the hierarchy based on the proximity.
Data security was handled with a two way authentication process with an OTP thus creating a formidable mobile application with a cutting-edge optimized user experience.
Appreciating DCI for carving a place for us to be in the swim along with the market trends.
DMK praised DCI for its professionalism, expertise and out of the box thinking.
We are Thrilled to have worked with DCI, they took this app to a whole new level professionally.
The unparalleled efforts of our team put into creating this app was a great.