HPC Systems, Inc – Internet Marketing Case Study
DCI
HPC Systems, Inc – Internet Marketing Case Study
Download PDF

The Client, HPC Systems, Inc., is a premier provider of high performance computing clusters, blade servers and workstations. A leader in design and integration of storage systems, HPC Systems, Inc. offers market-leading 16 and 32 core rack mount servers utilizing AMD Opteron and Xeon processors.
HPC Systems, Inc approached Dot Com Infoway to help achieve online visibility for its brand. The company wanted to gain top rankings for highly competitive keywords in major search engines
Dot Com Infoway measured and analyzed the popularity of the website, its current rankings in search engines and the competitive value of the new set of keywords before proposing suggestions for the client. After taking initial stock of the site's search engine positions, SEO experts at Dot Com Infoway came up with a two-phased business strategy to optimize the client's web pages for the targeted keywords.
Phase I: Action Plan for HPC Systems Inc.
Site Analysis: As a startup process, Dot Com Infoway conducted a thorough analysis of the site from the users' and search engine spiders' perspective.
Link Building Campaign: To improve the site's online visibility and branding, we planned a niche link building campaign.
Keywords Assessment and Improvement: On assessing the keywords provided by the client, our SEO professionals suggested a few additional keywords to the targeted keyword set in order to ensure that the site achieves consistency in search engine rankings.
Phase II: Execution of Action Plan
Dot Com Infoway implemented the Action Plan with tested and proven methodologies that involved application of new, business-specific SEO strategies and tactics.
Few methods adopted by us in executing the Action Plan:
Made in-depth analysis of the entire website and implemented white hat SEO techniques
Improved web pages to hook search engine spiders and improve online visibility.
Analyzed and compared monthly search engine ranking reports
Periodically monitored and measured the site's position on search engines
Tracked and gauged the traffic demographics of the site, including user behavior and user search trends.
The site achieved top rankings in all major search engines and still enjoys first page positions for many competitive keywords. There was a marked improvement in the number of leads generated and converted into business, thanks to the increase in the count of organic visitors.
The below graph provides the details of the organic visitors' traffic graph from Month 1 to Month 5 of the project period.
HPC Systems – Organic Traffic Graph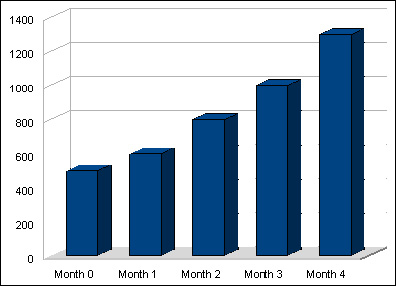 Note: The figures represented above are not exact numbers and this is only a relative graph based on the progress of the site.