Galatta Cinema – Mobile Apps Marketing Case Study
DCI
Galatta Cinema – Mobile Apps Marketing Case Study
Download PDF

Galatta Cinema is the print media initiative of Galatta.com and Dot Com Infoway. A high-end magazine on South Indian movies, Galatta Cinema features interesting articles, news stories, reviews, previews, interviews and critiques on the latest in the South Indian movie industry. The magazine features content written by cine experts and movie critics and caters to both movie fans and film fraternity.
Galatta Cinema approached Dot Com Infoway to promote its
iPhone app
. The company wanted more number of users to download the Galatta Cinema iPhone app and gain top rankings for the app in the free books category in the iTunes Store.
Dot Com Infoway measured and analyzed the popularity of the app and its current rankings in the iTunes Store before proposing suggestions to the client. After initial analysis, our app marketing experts came up with a two-phased strategic plan for promotion of client's iPhone app to the target audience.
App Analysis: As a startup process, Dot Com Infoway conducted a thorough analysis of the app from the users' and reviewers' perspective.
Analysis of various promotional methods & marketing strategies: To increase the application's download numbers, online visibility and branding, we designed diverse promotional methods.
Analysis of various Analytics Tools : In order to measure the daily downloads and other App related statistics, we analyzed various Mobile Analytics Tools.
Dot Com Infoway implemented the Action Plan with tested and proven marketing methodologies that involved application of new, business-specific iPhone application strategies and tactics.
Few methods involved in execution of the Action Plan:
App Store Submission: Submitted the app in Apple store since prospective customers often browse within the top apps listed in the app store via iTunes on their computers or via the App store on their iPhone.
Pre-launch promotion: We created buzz about the app before it was launched Implemented multifarious promotional methods to market the application and reach out to target users.
We promoted the app in Social Media websites to create awareness about the app, its specialty and uniqueness and also to increase its brand visibility online.
We ensured that the application reached out to application experts, reviewers and fellow developers and received reviews from them.
The Galatta Cinema iPhone app achieved top rankings in the iTunes store and still enjoys first page positions for many generic keywords. There has also been a phenomenal increase in the number of downloads.
The below graph provides a pictorial representation of the rankings of Galatta Cinema iPhone application in the Apple App store.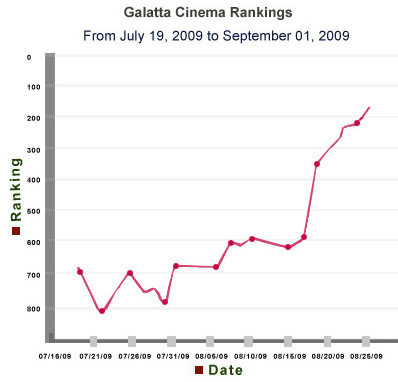 Note: This is only a relative graph based on the increase in rankings of the application in the App store
Dot Com Infoway offers successful iPhone application marketing services to clients. Know more about Dot Com Infoway's iPhone app marketing services here. We also engage in mobile application development for iPhone, Android, BlackBerry and Windows Mobile.