Mathew Placement – Internet Marketing Case Study
DCI
Mathew Placement – Internet Marketing Case Study
Download PDF

Mathew International Placement Co., Ltd. is a Thai manpower company based in Bangkok, Thailand. Since 1991 Mathew Placement has committed itself to providing international standard recruitment services and human resource solutions to employers and employees all over the world. Mathew Placement has 20 years of service in overseas recruitment business and has been awarded by the Ministry of Labor of Thailand as an outstanding supplier of quality manpower to different parts of the world.
The client did not have enough web presence to gain top search engine positions and generate organic traffic or leads online. The client wanted to increase the website visibility in search engines for specific key phrases targeting Recruitment and Manpower. Dot Com Infoway's challenge was to make Mathew International Placement rank within top 10 positions for competitive keywords in major search engines.
While the site had a professional look and feel, it had extremely low search engine saturation rates and link popularity. To gain search engine presence within the required time, Dot Com Infoway proposed a strategic plan that involved three main phases:
Our team made a thorough audit of the website in SEO perspective, and suggested usability recommendations based on the analysis.
Increased the site's overall search engine presence by creating optimized meta information and site structure.
Raised the site's overall web popularity through an aggressive link building campaign
Our first task was to begin optimizing the site page by page with targeted keywords. We also needed to improve the link popularity and get more search engine traffic to the site. In just a few months, we started seeing significant results from both, our link building campaigns and site optimization processes. The site currently enjoys many top 10 search engine listings for "Recruitment" related keyword terms.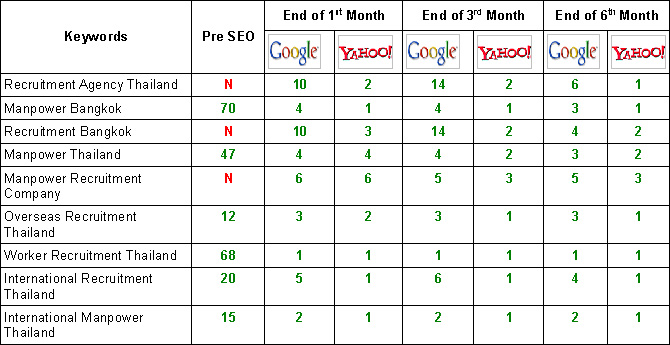 There has been a steady increase in people finding the Mathew Placement through the keyword phrases as well as for additional variations of the core phrases for which we optimized the site . The percentage increase in web traffic primarily due to Dot Com Infoway efforts are shown below:
Traffic Increase through Organic