SharePoint Development
DCI's expertise on Microsoft Technologies and several product developmental researches on Microsoft Office SharePoint Server have made us to deploy several MOSS products which are effectively scalable, highly reliable and have a speedy turnaround time. As a Microsoft Gold Certified partner, Dot Com Infoway offers extensive services on Microsoft Development platforms including the .NET, Microsoft SharePoint Server and ASP.NET technology. Built on a highly-scalable architecture, and interoperability standards including XML and Simple Object Access Protocol (SOAP), MOSS 2007/2010 serves as a rich application programming system. This all-inclusive platform provides integration with your existing systems and incorporates several flexible features that can be deployed on a whole new environment. Our experienced professionals and developers have gained experience through working on various projects on process enhancements, CMS, Document Management solutions, Knowledge Management solutions, and corporate intranet projects
Microsoft SharePoint is a complete Content Management System with unified search functionality developed by Microsoft Inc. that lets users to work in a web-based collaborative environment. The SharePoint technology can be employed to host web sites that access shared workspaces, information stores and documents, as well as host-defined applications such as wikis and blogs. Apart from its conventional use as a document collaboration platform, MOSS 2007/2010 can be used for intranet portals, business applications, reporting applications, etc.
Dot Com Infoway offers the following SharePoint 2007/2010 Solutions
MOSS Installation, Setup and Configuration
MOSS Platform integration with Windows and AD
MOSS Solution Integration
Business Process Integration
Business Intelligence Solutions
Business Scorecards and KPI's
Business Applications like MS-CRM, MS-AX & SAP
Web 2.0 Applications like ASP.NET, AJAX & SilverLight
MOSS Maintenance and Support
Upgrades / Migrations to MOSS 2007 & MOSS2010
DCI's other MOSS service offerings include
Multilingual Enterprise Content Management
Collaboration Solutions with rich web platform
Self Service and Social Applications
Business Intelligence dashboard solutions
Professional Service Automation
Project Management Solutions
Sales Portals & Vendor Portal Extranets
Salesforce automation
Online configuration solutions
Contract management
Legal document management solutions
Remote printing integration & management solutions (Cloud Printing)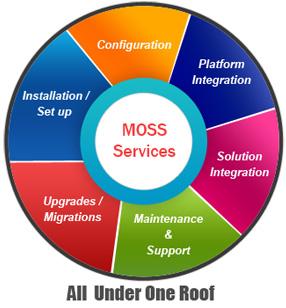 Sharing the experience learned through our clients on their projects have reflected in our global deliveries and has increased our client relationships particularly increasing the expertise of this Microsoft Technology in our organization. Dot Com Infoway can help you leverage Microsoft SharePoint 2007/2010 in a perfectly-tailored strategic way. DCI's SharePoint solutions allow you to get control of your SharePoint environment.
---
What Our Client's Say
I'm so proud of this program and what we've built as a team, it really is going to set the bar on what's available for hunters globally. It's easy to use, fast, pretty much as flawless as a program gets and it also looks really nice. It looks really great – I cannot tell you or express to you how pleased I am with the application! GREAT JOB!!!