How to Maximize the LTV of Your Mobile App Users?
Raja
Your mobile app users have value well beyond the initial download of your app. Their value can be measured in many different ways and it should be. The Lifetime value of a user is an extremely important metric to track because this value can reveal opportunities that would otherwise be hidden if it wasn't. A users value is projected well beyond the initial download and what they spend on in-app purchases.
It can also be measured in terms of how many other new users they bring to your app and how often they share your app or talk about it, which is free advertising for you. Most would agree that this extremely important. Because the lifetime value (LTV) of a user is intensely important, mobile app development team should do as much as possible to retain the users that they have. There are several methods that have been known to bring success to this goal.

Deep Linking
Deep linking allows your users to reach their objective much quicker. For example, a user may be looking for a particular type of restaurant. This user types a description into a search bar found in a deep linked ad. This search will take the user directly to the results he or she is looking for, via your app, even if the user hasn't installed your app.
This gives the user the ability to witness the effectiveness of your app before it's even been installed. This greatly boosts the probability that your app will be installed and kept and has the ability to improve the LTV of a user. The process has this flow;
Click an Ad to Conduct a Search
A user is Sent to the App Store
Search Results are Listed in the App
Select One of the Results and Continue the Search in the App
View the Results of the Narrowed Search
Optimize the Onboarding Process
When you're trying to acquire new users in hopes creating lifetime or long-term engagement, the onboarding experience has to be extremely compelling for the user you are trying to acquire. This means that you must personalize the experience for the user as much as possible. This is not something that's automatically intuitive for most developers. It requires research and testing.
This is an area where A/B testing can be quite effective. You will need to test different flows to see which one appeals to your users the most. Courting the user can be compared to keeping a married couple together. You must dazzle them and then continue to dazzle them throughout the duration of the relationship they have with your app. However, there are a few basic approaches that should be employed at all times when trying to acquire new users
Give Your Users What they Need
Don't Overwhelm them with Useless Information
Push Notifications
Push notifications can be quite effective if they are used strategically and with a personal angle. No one wants to be bombarded with a bunch of notifications that come across as generic, one size fits all messages for everyone.
If you are going to use this type of notification system, study your metrics enough to know which types of notifications will work best for a particular user. Use timing and size to your advantage as well;
A 128-Character Message is Most Effective
Experiment with A/B Testing to Determine the Best Timing
---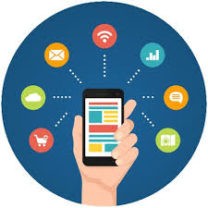 How To Calculate Lifetime Value? – Infographic
In order to help app developers have a better insight in understanding their app's success over time, here is an Infographic explaining everything anyone needs to about the one single metric that can help determine an app's present as well as future – the customer lifetime value or LTV.
---
Mobile Advertising
It's possible to combine your user acquisition (UA) efforts with your user retention efforts to boost the LTV of your existing and potential mobile app users. You can actually share your UA budget with your budget for user retention. However, it's imperative that you conduct tests to see where your mobile advertising efforts will be the most effective. Run tests to determine:
Where to Focus Your Ad Campaigns
What Other Strategies Can be Employed after 3 Weeks of Testing
How to Focus Your Analysis of Your UA Strategy to Optimize it
If You Need to Use Boost Campaigns to Create Exposure for an App that just Launched
Be Accessible to Users
One of the best ways to boost user engagement and LTV is to be accessible to your users. This is where social media and the company website comes into play. Make sure you've created a platform where users can voice their concerns and that you actually take the time to respond to them in a timely fashion. You'd be amazed at how far this one piece of the LTV puzzle will take you.
You should also be reading user responses and using them as springboards to work out kinks and improve your app continually. You should;
Create an in-app Customer Support System that allows Users to Reach you at Any Time
Keep Up with your App Reviews in order to Address Problems with your App and Answer Questions
Maximizing the LTV of your mobile app users must be cultivated like any relationship. It must be carefully studied and tracked in order to recognize areas of opportunity and to optimize the user experience. You must spend time with your users by listening to them and taking the time to respond. Your timing is important as well.  Users need to know that you care about their patronage and the only way to truly show this is by doing as much as possible to elevate user engagement by making the user experience as good as possible, for both existing and potential users.
Elevating LTV has everything to do with putting the value where it belongs, on the user experience, wants, and needs. When users have good experiences with your app they'll want to talk about and share it on social media and through word of mouth. This is free advertising, yet this form of advertising does have a monetary value for you when it comes to acquiring new users. A users lifetime value (LTV) has intrinsic value beyond the initial download and the in-app purchases. Every time they sing your praises they elevate user conversion for you.