14 Essential Twitter Tools That Keep Your Tweets Going
DCI
Anything related to Twitter creates an immediate buzz – right from newly sprung microblogging services to brand new Twitter clients. Innumerable plugins, addons, applications and mobile interfaces are available for Twitter. Though most of them make a lot of promises, only a few deliver value.
Listed below are a few popular Twitter tools that keep your tweets going.

Twitter Plugins for WordPress blogs
1. Tweet This
This plugin adds a "tweet this post " link to all the new posts of your blog. It automatically shortens URLs while you post the blog in Twitter. Other than Twitter, there are options to include your blog posts in other social media websites like Plurk, Yahoobuzz, Delicious, Digg, Facebook, Myspace, Reddit, and StumbleUpon.
2. Twitter Friendly Links
This plugin shortens every URL in your domain name. For e.g. https://www.dotcominfoway.com/blog/is-google-uk-going-crazy-looks-like-it-is link will be shortened as https://www.dotcominfoway.com/293. This helps in branding your website since the shortened URL is in the format of your own domain. Also the shortened URL can be tracked in analytics unlike other URL shortening services which don't have this feature.
3. Tweetmeme
Tweetmeme plugin displays a button in all the blog posts which help users to tweet your post. It also has a counter which displays a number representing the count of your blog post tweeted.
4. Add Twitter
Add Twitter plugin displays the tweets on your blog, so that everybody can see your status and latest updates. You can either add it as a widget or directly embed it into your template .
5. Bird Feeder
Bird Feeder plugin help to tweet newly published blog posts with your customized message, post title and post URL into your Twitter account automatically.
6. dB Twtpoll
Twtpoll helps to create polls in your Twitter account. The dB twtpoll plugin add a code to embed the polls into your blog post.
Twitter Firefox Addons
7. TwitterFox
One of the most popular addons, TwitterFox puts a small icon in your Firefox status bar and lets you interact with Twitter easily. It has pop-up option to view the latest updates and also allows you to add multiple accounts. It helps you to stay up-to-date with the conversations of your followers through reply and retweet options.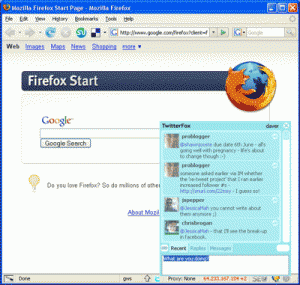 8. TwitterBar
TwitterBar allows to tweet from your Firefox address bar. A small icon present in the right side of the address bar will let you to tweet, while a mouse-over will show you the number of characters left to tweet.
9. TwitKit
This addon will be available from the browser sidebar. You can tweet using the text field available for input. It has more number of fields that help to view your updates, your followers' updates, your followers and their latest updates, your @replies and stats about your Twitter account.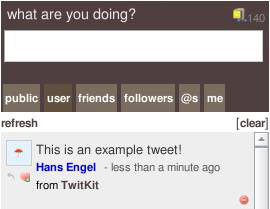 Twitter Directories
10. Just Tweeet It
You can add your Twitter profile to this directory by selecting the appropriate category you need. It helps many users to find you and helps increase followers.
11. Twellow
Twellow acts as yellow pages for Twitter accounts. The directory contains many categories and you can search the people belonging to your industry by clicking the appropriate category.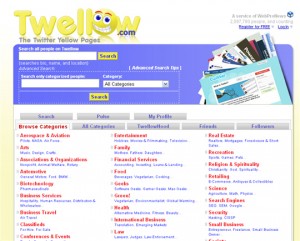 12. Wefollow
Wefollow directory was started by Kevin Rose of Digg. Twitter users are categorized and listed based on their rankings. You can include yourself by tweeting with @wefollow and # hashtag for the category you want to be listed.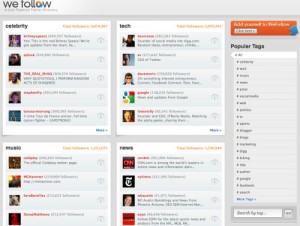 13. Social Brand Index
Social Brand Index is an index of famous brands in various fields. You can find the popular organizations in your industry and get connected with them.
14. Twibs
Twibs is a twitter business directory that helps to include your business. There are options to include tags for your business, to write a review and rate your business.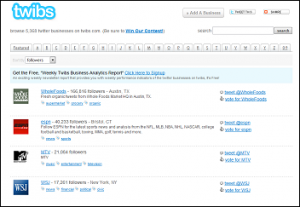 These Twitter tools make your job easy in adding your Twitter updates to your website, connecting with your friends, creating an online identity for you and also in branding your business. Make the utmost use of these tools to increase your online presence and to keep yourself updated.