4 Latest Trends in Mobile Apps Marketing
DCI
It's a well known fact that one of the fastest growing fields is that of mobile apps, and there are certain factors that govern the shelf life of each app. One can't just release an app into the market, and expect it to run for the sole reason that it was created. Here are four of the latest trends in the market that decide whether an app stays or goes.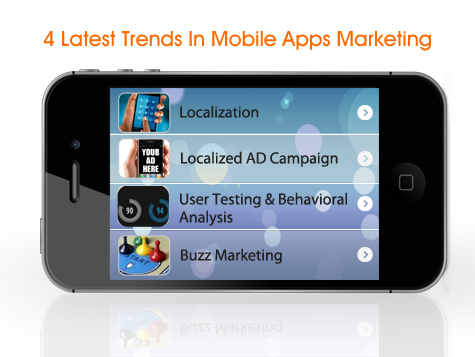 1. Localization
When you go to an app store for Apple or Android, and you're looking for a certain application, the first thing you usually check is whether or not it is in a language you understand. When it comes to the US and Europe, most people prefer or are comfortable with apps in English. But the same cannot be said for East Asian countries, where the language they prefer is usually their mother tongue. It has been observed over a period of time, that those who released their apps in a language local to a region or made sure to localize them had higher download figures and better ratings than others. And this shouldn't come as a surprise – it's only pure logic.
2. Localized Ad Campaign
With the rate at which the mobile app market is growing, your app may or may not make it into the "top downloads" list because of one simple factor – competition. But there is a way to get around this problem. With any new product comes advertising, and if the advertising is done in a language local to a region, the message reaches a higher percentage of people, hence increasing your app's chances to make it to the top. The concept is the same as with localization.
3. App Testing and Behavioral Analysis
Once you've released your app into the market, it would definitely count as a plus to know exactly how it's working and whether or not people are able to use it as you had planned when you set about creating it. Sometimes, there are the usual glitches that didn't show up at the beginning but need fixing since they're causing problems now. This is where feedback from the general public comes in, and this would help you solve the issues currently being caused by the app, or introduce an upgrade that might serve the purpose better.
4. Buzz Marketing
Marketing through electronic media was a trend started a long time ago, and it has only improved with time. The latest addition to the e-marketing squad is buzz marketing, which has become one of the most popular ways of advertising products. As opposed to conventional marketing methods, buzz marketing makes use of the feel good factor. Here, the consumer is made to feel unique by making him believe that he's perhaps the only one privy to certain information. Apps have also made use of this style of marketing, and thanks to that, their popularity has grown exponentially. Buzz marketing isn't just about a few lines of text with info. Developers have been using infographics, videos and one of the most popular modes of promotion today – memes. With the popularity that memes have been able to gain among the young crowd today, they can be used in an app promotion company.