4 Tips to Boost Conversion Rate During the Holiday Season
DCI
The holiday season is always an encouraging time for marketers. Conversions usually increase during a holiday period, but they can be boosted even more. For a steady increase in conversion, it is important to have a strong plan and execute it well. Some merchants start their promotions much in advance, as it helps in lengthening the selling season. Here are some ways in which conversions can be rapidly developed during the holiday season: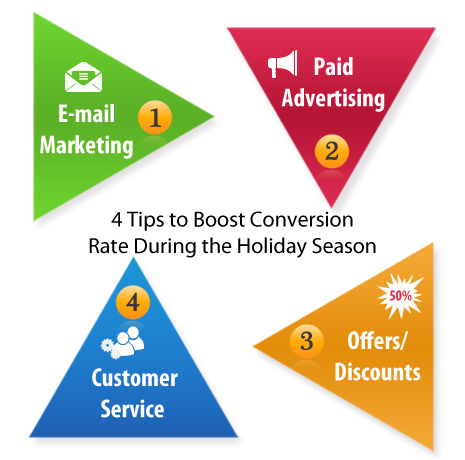 E-mail Marketing
A right e-mailing schedule will aid in having higher conversions. Marketers will have to face essential challenges like persuading individuals to open e-mails, having interactivity through e-mails and most importantly, sharing offers using social media. Another important aspect is the content which is being delivered through e-mail. It should be ensured that the targeted segment is receiving the right message. A campaigner's survey reported that marketing e-mails make up more than half of an individual's total e-mails. In addition to this, one out of four customers expressed displeasure when they received irrelevant content.
Paid Advertising
Some marketers also invest in pay-per-click advertising to increase the conversion rates. This tool is a swift and effective way to ensure site traffic. A case-study posted on SEJ has revealed that pay-per-click ads get more noticed when they are displayed on the top of the page rather than on the side of the page. To ensure that users see and click on the ads, it is vital that the right information is placed in the right place. According to a recent report by Market live, paid search visits have a 35 percent conversion rate compared with visits from organic search.
Offers/Discounts
Discounts should always be communicated in the smartest way. Semantics and psychology are the factors which have to be taken into consideration. The right way of communicating a discount attracts customers and boosts conversions. Rule-based promotions like "Buy 2 Get 1 Free" offers, coupon codes, free or discounted shipping are various offers which can be employed to increase conversions. Another area of improvement for higher conversions is reviving discarded shopping carts. Most times, a shopper adds a product to the cart but never completes the order. That's when the marketer should save the cart and send a series of personalized e-mails to the shopper reminding them about the product(s). A coupon code can also be included to motivate a successful checkout.
Customer Service
An excellent customer service always lets the marketer retain the customer and his/her loyalty. A proficient customer service means sales. So, an amiable strategy should be adopted to create confidence in the customer about the seller. An FAQ Section with the possible questions the customer might have about the products and policies should be readily available. Interactivity with the customer should be made very honestly and cheerfully. The customer service team should respond promptly when contacted. Providing customer services like gift receipts, easy returns and last minute shipping will support in increasing conversions.
To summarize, well planned holiday marketing program is very fundamental for enhancing conversions. Marketers should ensure that the process is easy and convenient for the customer to make a purchase. By doing so, a flourishing holiday conversion period is certain.