5 Effective Instagram Tips to Build a Massive Following
DCI
Instagram is the go-to social media platform for visual marketing. However, it's more than that, with a study from L2 showing that Instagram provides brands with 25% more engagement than other social platforms. Those are the kind of numbers that make you want to jump on the bandwagon. Let's take a look at how to effectively build a massive Instagram following.
1. Make Use of the Right Hashtags
Marketing on Instagram has two purposes: engaging your current audience, and bringing new people into the sales funnel. The first purpose is accomplished by posting interesting content, and the second purpose is accomplished by using the right hashtags.
Hashtags are a great way to tag content, and some hashtags are more effective than others. For example, #love is currently attached to the most posts, with a strong 546 million posts associated with it. This means that using #love will expose your content to a ton of people. However, this does not mean that they are the type of users you are looking for.
To effectively use hashtags, you have to think of them as SEO keywords. You can use a free program such as Webstagram or IconoSquare to find which hashtags that are both trending and related to your brand.
Instagram allows up to 30 hashtags per post, and if you've added posts in the past without relevant hashtags, you can go back and add them as comments for the same effect.
A good way to go about hashtagging your posts is to have several hashtags related to the category of your product or service, some hashtags that relate to your brand and overall offering, and a few hashtags that are location specific and related to your brand (for example #SanAntonioWholeFoods).
2. Go With the Best Filters
Different filters affect your engagement numbers differently. According to Populagram, the ten most popular filters are:
Normal (No Filter)
Valencia
Earlybird
X-Pro II
Amaro
Rise
Hudson
Lo-fi
Hefe
Sierra
Below, you can see a recent study from TrackMaven, which showcases how different filters affect engagement.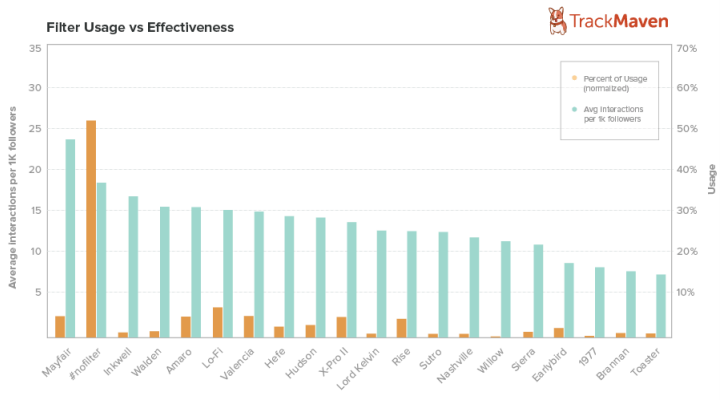 However, more importantly, you want to find out which filters work best for your audience specifically, and you can use IconoSquare for that purpose.
3. Schedule Your Posts
The next thing to keep in mind is the timing of your posts. Different times will net different results, with your audience engaging more or less depending on the time of day and the day of the week that you post.
In order to find out what the right time to post is, you can use IconoSquare's optimization section, where you will get a detailed analysis as showcased below. The black circles represent your posts, and the light gray circles represent your engagement rates (likes and comments). The best times to post are represented by the largest gray circles.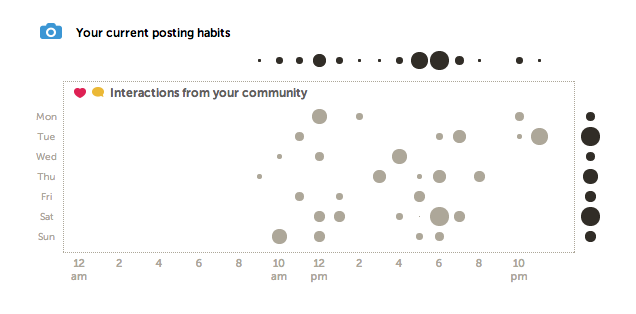 To best optimize this, you can use a scheduling program, such as ScheduGram.
4. Steal Followers From Your Competitors
Stealing followers from your competition is one of the best ways to find and interact with new users. These users have already shown that they are interested and engaged with products or services within your niche.
The best way to do this is to engage with them. Whether this means following them, liking a photo, commenting or a combination of the three, you can expect to attract some quality leads. Of the four options, the latter is the most effective. By following, liking and commenting on one a user's photos, you can expect a 34% chance of a followback.
5. Take Advantage of Sponsored Posts
If you have the extra budget for them, sponsored posts can definitely provide a boost in your following.
First, you want to find large accounts within your niche. You can use Webstagram and search for the most relevant keyword hashtags that are related to your brand. The profiles you are looking for should have between 20,000 and 200,000 followers, and an email address linked to the profile.
The email address signals that these users are open to posting sponsored content. The usual price is between $20 to $50 per post, and if you're going for maximum impact, try to make the photo look like a regular Instagram post, and not like a paid advertisement.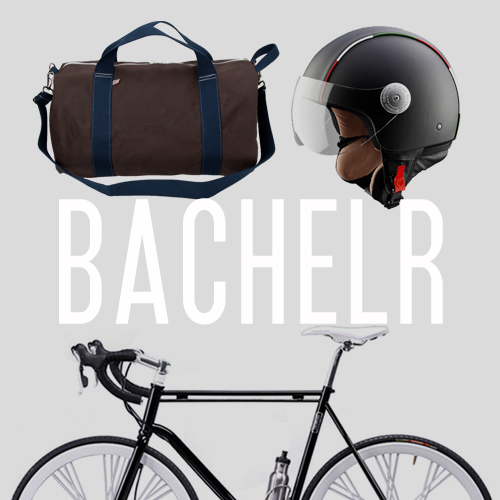 Conclusion
Using these techniques can gain you a lot of followers, especially when you combine them with natural social media interaction. Make sure to like, comment and follow users in order to promote a personal brand.