5 Ways to Monetize your Android App
DCI
These days, it seems like everyone is dabbling in mobile apps. However, developing and launching an android app that can provide revenue has become next to impossible. The market has become saturated with free apps and options and a plethora of users whose main mission is not to spend money. Although it may be difficult to develop an android app that brings you revenue, it's not impossible. There are many strategies you can use to get the ball rolling.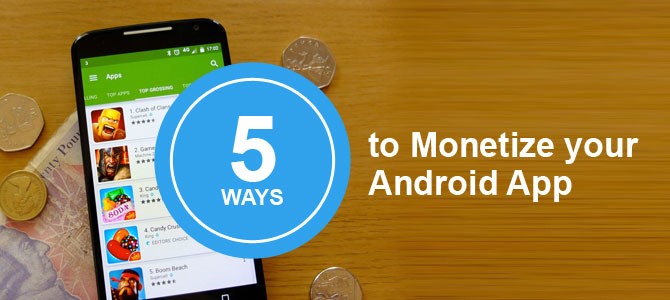 SMS Marketing
Part of your marketing strategy should be to get user telephone numbers. This allows you to keep your users in the information loop in terms of special promotions, new updates, and upgrades. It's an easy way to promote your app through text messages.
Advertising
Some of the most successful advertising comes in the form of diversified ad products. They have been proven to work best on mobile. Combine diversified ad products with data and metrics and you have focused marketing that gets the attention of users. This is another way to stimulate revenue on from your app.
Multiple Payment Options
Adapt your app marketing strategy to your android apps core offerings by providing multiple payment options. This presents users with a variety of different ways to pay the amount they are most comfortable with for the services that they feel will add the most value for them.
App Re-Engagement
Focus and invest in your users. Practice the fine art of re-engagement by using your in app user data to retain your existing users. The data is there for you to take advantage use it to see what's working and what's not. However, don't lose sight of the audience you have already won in your quest to gain new users. An interesting statistic reveals that the top 2% of mobile gamers drive over 90% of an app's revenue. Isn't this surprising? This is why it's a good idea to continue to court your current users. Sometimes the power lays in the hand of a few.
Sign ups & Emails
Whatever marketing tool you already have in place can be funneled through your app, even your news letter and other sign up opportunities that are available through your website. Make those same opportunities available through your android app. You will be creating another avenue to drive revenue. The idea is to use everything you have. Your app can help drive revenue in ways you hadn't considered before. Special offers, sign ups, and emails all provide a revenue earning opportunity.
There are many strategies that can be used to increase your revenue. Use every opportunity you have through your app to support all your revenue building opportunities. Android apps can utilize sign ups and emails, SMS advertising, as well as a variety of different vehicles to stimulate revenue. Don't forget about your existing users, utilize re-engagement to keep them stimulated and locked in. More than likely, these loyal users will be the main people consistently buying your apps and upgrades.