8 Must-Have Apps for Entrepreneurs
DCI
With all the modern gadgets available to us, the iPad is probably the most popular by far. It has a very attractive design and can be utilized for just about anything – whether you are working or just having fun.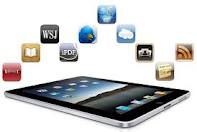 Here are 8 apps that entrepreneurs should not be without.
Dragon Dictation
Dragon Dictation is a wonderful app for all drivers and it allows you to send emails and text messages by simply speaking into your phone. The app will recognize the person's voice and then start typing on your behalf; making it easy for drivers to reply to incoming messages while driving.
AroundMe
AroundMe will locate your current position and point out attractions such as coffee shops, gas stations, hotels and restaurants. This is ideal for people who are not familiar with a certain area, or people who are traveling alone and need guidance. This app can easily be added to your iPad and guide you towards your chosen location.
CNN
With the CNN app you will always be able to stay on top of the latest news and industry trends. You can take the news with you, wherever you go. Ideal for businessmen who need to be on top of the news without a computer or a television set to do so.
Mint.com
Business owners can now stay on top of their finances with the Mint.com iPad app. This clever app will remind you about upcoming bills, inform you if something happens on your account, and provide handy tips on money management. This is a must-have for business owners all over the globe.
Things
With Things you will be able to make your own to-do lists to help keep you organized while on the road. You can add unlimited tasks for yourself, organize your priorities, and set reminders for important items. The Things iPad app is handy and it will definitely speed up productivity.
Voice Memos
Voice Memos will allow you to leave yourself messages and helpful reminders on things to-do or to remember. You can also use it to record your conversations so you won't have to worry about making notes throughout a meeting or a phone call.
HBR Tips
HBR Tips will provide you with tips directly from the Harvard Business Review. The app has a lot of helpful hints, tips and ideas to help you make sound decisions regarding your business.
WorldCard Mobile
Now you can quickly and easily scan business cards with WorldCard Mobile app. You can also send the information directly to your mobile address book and have them ready whenever you need them. You can scan and save contacts directly from a business card to your phone.