Adobe's New Edge Tools for Web Designers and Developers
DCI
Adobe has officially launched its Edge Tools with HTML5, CSS3 and JavaScript services for designers and developers. The Edge Tools and Services include Edge Animate, Edge Inspect, Edge Code, Edge Reflow, Edge Web Fonts, Typekit and PhoneGap Build.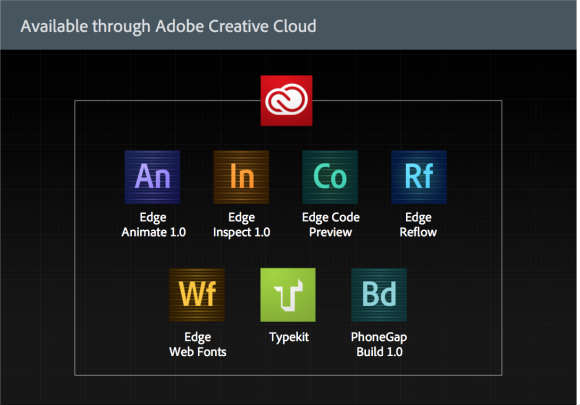 Edge Animate 1.0, (formerly Adobe Edge Preview), allows users to create Flash-style animations that are built using open Web standards like HTML, JavaScript and CSS. Edge Inspect helps front-end web developers and designers to efficiently preview and debug HTML content on mobile devices. Edge Code is a code editor. Edge Reflow is a web design tool to help users create layouts and visual designs with CSS of HTML. Edge Web Fonts includes hundreds of open-source web fonts which can be used both for websites and apps. Typekit is another service that allows designers and developers to access a library of hosted, high-quality fonts for use on their websites. PhoneGap Build is for popular mobile platforms, to package mobile apps built with HTML, CSS and JavaScript.
"We are excited to put a powerful new set of HTML5 tools into the hands of Web designers and developers and can't wait to experience the beautiful websites, digital content and mobile apps they'll create," said Danny Winokur, vice president and general manager, interactive development at Adobe. "We are passionate about enabling creative people to do anything they can imagine with Web technologies, which is why we're contributing to the Web platform and making the Edge Tools & Services available for free, including the first release of Edge Animate," he added in an official post.
Adobe has not yet made any clear pricing for the Edge Tools as some of the offerings are available in a number of different ways. Currently, Edge Animate, Edge Code and Edge Web Fonts are totally free. As an introductory offer, Edge Animate will be available for free now, but will later be sold at $499, through a paid subscription to Creative Cloud, or at $14.99/month as a standalone subscription. Similarly, Edge Inspect, PhoneGap Build and Typekit also offer standalone subscriptions and free, limited versions through a Creative Cloud starter plan.
It was earlier announced by Adobe that the upcoming versions of
Photoshop will not support Windows XP.