Amazon Appstore Generates More Revenue Than Google Play
DCI
According to a recent report released by the mobile app analytics company Flurry, Amazon App Store for Android is generating more revenue per daily user than Google Play. However Apple's iTunes App Store tops the race as usual.
Flurry conducted the research over a period of 45 days starting from mid-January till the end of February 2012. The study examined a set of top-ranked applications available across Google Play, Amazon's Appstore and Apple's App Store. The statistics considered a combined 11 billion daily active users of those apps.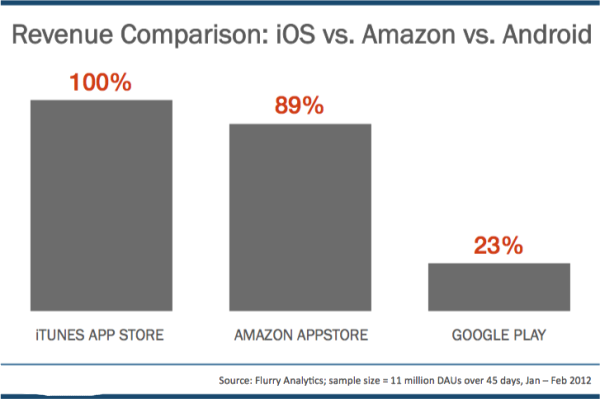 The research set the revenue generated by iTunes App Store to 100% and then compared it to relative rates made by Google Play and Amazon Appstore. The study revealed that the Amazon Appstore revenue is 89% of the Apple App Store revenue. On the other hand, the Google Play revenue is only 23% of the Apple App Store revenue.
The official Flurry blog reported, "Apple runs the highest revenue-per-square foot generating retail store on the planet as well as successful iTunes store. Amazon, who invented the one-click purchase, perfected online shopping with data, efficiency and customer service. Google's strength is in scalable online search engine and advertising technology. Running a store, retail or digital, has not been Google's traditional core competency."
This report indicated that a larger number of developers prefer Amazon's Appstore over Google Play.