Amazon Compares its Kindle Fire HD with Apple's iPad Mini
DCI
Amazon has made a very prominent comparison of its 7-inch Kindle Fire HD with the iPad Mini on its homepage.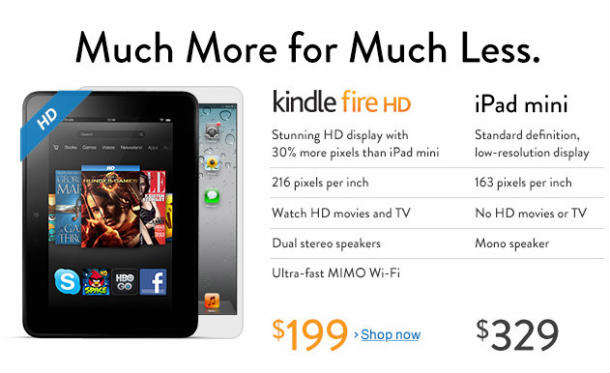 The ad mentions that the Kindle Fire HD has a 'stunning HD display with 30% more pixels' than the 'standard definition and low resolution display' of iPad Mini. Amazon states that the pixel count in Kindle Fire HD is 216 per inch whereas it is 163 per inch in the iPad Mini. The ad also conveys that with the Kindle Fire tablet you can "watch HD movies and TV" but not with the iPad Mini.
A quote from a Gizmodo post is displayed at the top of the ad. "…your [Apple's] 7.9-inch tablet has far fewer pixels than the competing 7-inch tablets! You're cramming a worse screen in there, charging more, and accusing others of compromise? Ballsy."
A bold heading underneath the quote read, "Much More for Much Less." The ad is pretty much about the price as Kindle Fire HD is available for $199, while Apple's iPad Mini costs $329.
Apple is continuously being targeted by its rivals. Earlier, Samsung criticized the iPhone 5 comparing it to the Galaxy S III and Motorola mocked Apple's new Maps application on its official Google+ page.