Amsterdam welcomes DCI: Netherlands office in news
DCI
Last month, Dot Com Infoway opened its sales and marketing office in Netherlands and today, we are happy to thank the Dutch people for welcoming us to their homeland. It is our pleasure to mention the support and appreciation the Netherlands business community has extended to our newly-opened sales and marketing office in Amsterdam.
Iamsterdam.com based out of Amsterdam and Netherlands Foreign Investment Agency (NFIA), India have featured Dot Com Infoway's Amsterdam office in their web pages. Both the sites have published full-fledged cover stories about Dot Com Infoway, the company, its services and future plans. This is the first-ever local press coverage of DCI's Amsterdam office and it has to be admitted that this a remarkable recognition from the country and its IT industry.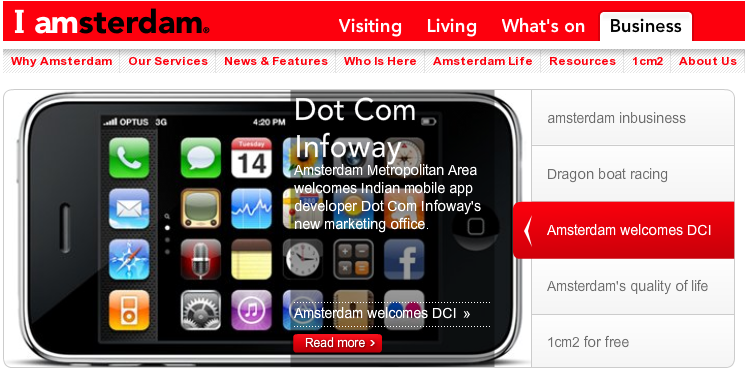 The news stories highlight Dot Com Infoway's technological caliber and its gamut of services which cater to the exclusive needs of European IT markets. The feature articles point out DCI's interest in the local market, along with its future plans to build its European base.
Iamsterdam says, "Conquering the European market from Amsterdam: From its new marketing office in Amsterdam, DCI plans to manage  the marketing and sales of its IT services in the Netherlands and the entire European region. Moreover, the company states that the decision to move to the Amsterdam Metropolitan Area reflects the huge growth potential that DCI sees in Europe."
Netherlands Foreign Investment Agency (NFIA) has discussed at length about DCI's penchant for innovation and its mastery over leading-edge technologies, global delivery model and enormous growth potential: "As a highly acclaimed innovative IT solutions provider and Mobile Application developer for various global markets, DCI has achieved tremendous success by focusing on areas with high growth potential. This is why DCI is increasingly interested in investments to its operations in the European & Asia-Pacific region, which is now their second and third biggest market behind North America."
The feature goes on to mention about the company's commitment to the industry and its strong European ties: "According to Dot Com Infoway, the secret to their tremendous growth has been their commitment to providing a high quality of diversified IT services to their worldwide clients. In the last year, DCI has increased the size of its workforce and developed several new business deals with European IT vendors."
Both the news stories also carry excerpts from interviews with the company's management team, especially, CEO and Managing Director Mr. C.R. Venkatesh and CTO Mr. Vijayakumar. Information on why the company chose Amsterdam, the strategic advantages of the place, including its proximity to the European and Eurasian markets find a mention in the articles. In brief, the news stories are but significant expressions of the country's interest in the company.
Back home, we are excited about the first press coverage. And business at Amsterdam office has got on to stunning start, thanks to the recognition and warm welcome from the local people.
You can read news stories here:
Iamsterdam – Amsterdam welcomes Dot Com Infoway
NFIA News – India-based Dot Com Infoway opens new Sales & Marketing office in Amsterdam