Android Grabs 51.8% of Market Share in the U.S.
DCI
According to a new report by the analytics firm Nielsen, Android has the largest market share in the U.S. which is more than the share of all the other mobile operating systems combined.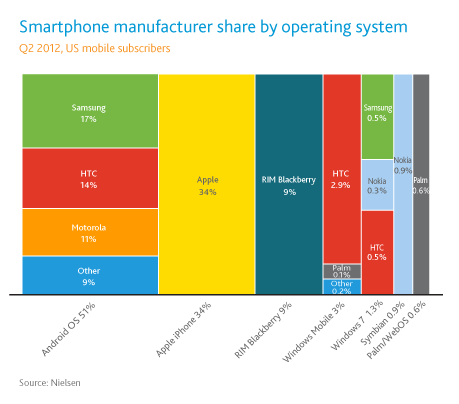 Nielsen analyzed the smartphone penetration in the U.S. market for Q2 2012. It found out that 54.9% of U.S. mobile subscribers own smartphones as of June 2012. The interesting fact is that 2 out of 3 buyers in the U.S. opted for a smartphone instead of a feature phone in the last 3 months.
The report revealed that 51.8% of smartphone owners in the U.S. use Android-based handsets. Apple's iOS has a 34.3% market share. It is followed by RIM's BlackBerry (8.1%) and Microsoft's Windows Mobile and Windows Phone 7 platforms (4.3%). Both Symbian and Palm OS had less than one percent of the market share at 0.9% and 0.6% respectively.
Of the 51.8%, 17% comes from Samsung alone. It is evident that Samsung is the largest Android-based phone maker in the U.S. It is followed by HTC (14%)and Motorola (11%).