Android, iOS Device Activation Hits Peak on Christmas
DCI
Flurry Analytics study suggests 6.8 million Android and iOS devices activated on Christmas Day this year.
Flurry has come up with some impressive stats on Android and iOS devices and apps. According to it, from December 1st to the 20th, the average daily activations for Android and iOS devices was at 1.5 million. On Christmas, this number grew a whooping 353% to reach 6.8 million. Compared to Christmas Day 2010, Christmas 2011 grew by more than 140%.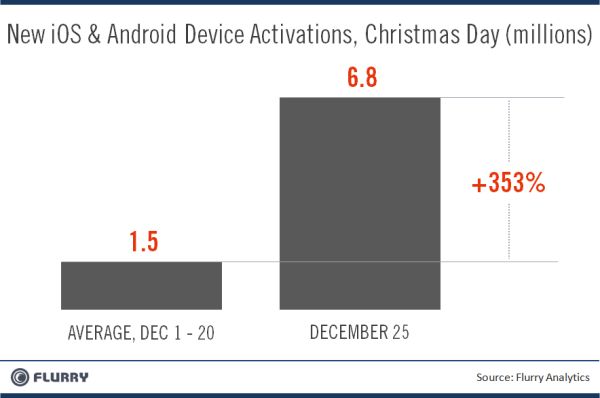 This study has also found a huge rise in app downloads. "Specifically, over the December 1 – 20 baseline, download volumes (for apps) increased by 125% on Christmas. Note that, relative to the percentage increase in device activations, we expect the percentage increase in downloads to be lower," said Flurry.
Flurry expects a billion apps to be downloaded between Christmas and New Year's Day.
Dot Com Infoway is an iPhone app development and marketing company with many popular apps to its credit. To know more about our services, visit our iPhone app development page and Mobile apps development page.