Android Tablet Shipments to Lead Market by 2015 : IDC
DCI
The International Data Corporation (IDC) has released a report on worldwide media tablet shipments and forecast recently. It has pointed out that the tablet shipments on a global basis rose by 155% year-over-year in the fourth quarter of 2011 (4Q2011) to 28.2 million units worldwide. Moreover, IDC suggested that Android tablets will overtake iPad by 2015.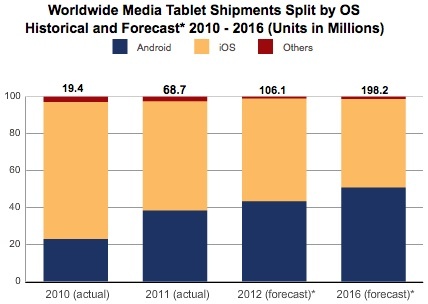 The industry research group IDC expressed that the market has experienced a stronger growth than expected in many regions and that has lead the total shipments to 68.7 million units in 2011. Based on the market growth and expected demand, IDC has increased its 2012 shipment forecast to 106.1 million units from its previous projection of 87.7 million units.
Apple continued to grow in 4Q2011, shipping 15.4 million units from 11.1 million units in 3Q2011. But Apple's worldwide market share fell to 57.4% in the fourth quarter from 61.5% in the third quarter. Amazon shipped 4.7 million Kindle Fires in the last quarter, becoming the second largest tablet shipper with a 16.8% worldwide market share. Samsung gains the third position whose share rose to 5.8% in the fourth quarter from 5.5% in the previous quarter.
Tom Mainelli, research director, Mobile Connected Devices said, "Amazon's widely-reported entry into the media tablet market with a $199, 7-inch product seemed to raise consumer's awareness of the category worldwide despite the fact that the Fire shipped almost exclusively in the US in the fourth quarter."
He added, "…the sheer number of vendors shipping low-priced, Android-based tablets means that Google's OS will overtake Apple's in terms of worldwide market share by 2015. We expect iOS to remain the revenue market share leader through the end of our 2016 forecast period and beyond."
The IDC press release pointed out, "Looking ahead, IDC expects Android to continue to grow its share of the market at the expense of iOS."
Dot Com Infoway is an iPad app development and marketing company with many popular apps to its credit. To know more about our services, visit our iPad app development page and Mobile apps development page.