App Developers Prefer iOS to Android : Report
DCI
A recent report reveals that a majority of app developers favor the iOS platform when compared to Android, despite its greater share in the smartphone market.
According to the latest report released by the research firm Flurry Analytics, for every 10 apps that were created in the first quarter of 2012, 7 were built for iOS and only 3 were made for the Android platform. This indicates that iOS leads in the competition for app developers' interest.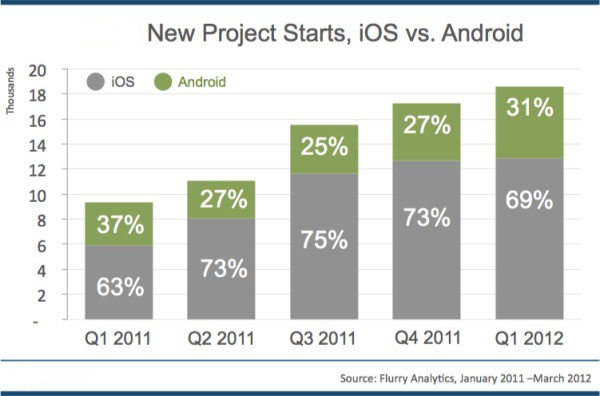 The report says that developers are creating apps for iOS over Android at a ratio of 2:1. The 'New Project Starts' statistics reveal that in the first quarter of this year 69% of app projects were started on the iOS platform, whereas only 31% were started on Android. But this is a slight improvement for Android as only 27% of Android app projects were started in Q4 last year.
Building apps for different devices and versions of Android might be a painstaking job for Android developers. Moreover, iOS app developers make dollars four times more than Android app developers. These factors could be the reason for developers to turn their interest in developing more apps for the iOS platform.
Flurry said in its findings, "At the end of the day, developers run businesses, and businesses seek out markets where revenue opportunities are highest and the cost of building and distributing is lowest. In short, Android delivers less gain and more pain than iOS, which we believe is the key reason 7 out of 10 apps built in the new economy are for iOS instead of Android."