Apple Launches iOS 6.1 with Additional LTE Support, Improved Siri and iTunes Match
DCI
Apple released iOS 6.1 for iPhone, iPad and iPod touch today. This new version provides expanded LTE support for carriers all over the globe, facilitates the purchase of movie tickets using Siri and allows people to download individual tracks from iTunes Match.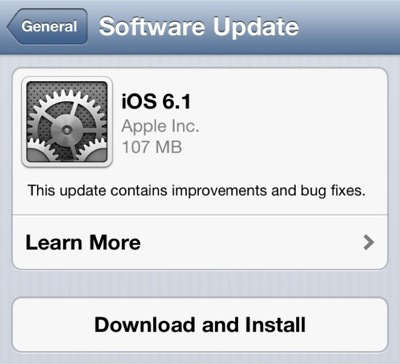 Users can get the new version through the Software Update section on the device or by connecting to iTunes. Apple has brought in LTE support for iPad users in many other countries. Movie ticket purchase through Siri is handled by Fandango. After searching for the show times, users will have to tap on the item that appears on the Fandango app to purchase the movie ticket. This support for ticket purchase is available only to users in the US.
Individual songs can now be downloaded from iCloud through iTunes Match. Instead of downloading the entire album or playlist to the device, users can now just tap on any particular item of their choice. A new splash page of Passbook has also been added to iOS 6.1. This will allow users to find all their coupons, movie tickets, loyalty cards etc, in one place.
This version has got a button to reset the Advertising Identifier (AI). This is a substitute for the UDID (Unique Device ID) that Apple offered advertisement networks, to track users' viewing habits.