Apple Leads Android with 84% in Mobile Gaming Revenue
DCI
According to a recent report released by the market research firm Newzoo, Apple dominates Android by holding about 84% of the mobile gaming revenue in the U.S. The report says that an average American iPhone/iPad gamer spends about five times more money on their mobile games than an average Android gamer.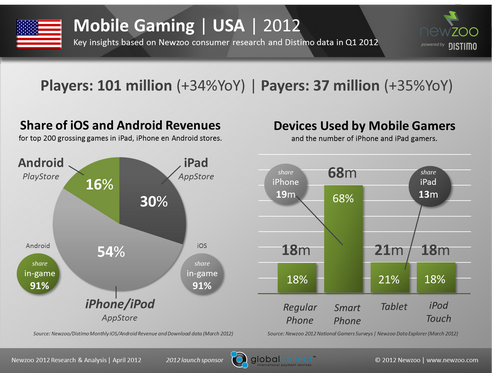 Newzoo surveyed about 17000 individuals and took into account downloaded data of top 200 iOS and Android grossing games. The research findings say that the number of mobile gamers in the U.S. has increased to 101 million from 75 million of which 69% of the total players play on smartphones and 21% on tablets. The total number of paying players has also grown 35%.
In March 2012, iOS devices earned 84% of the mobile gaming revenues generated among the top 200 grossing games at App Store and Google Play. Further, 91% of revenues of both iOS and Android games in the U.S. comes from the money spent on in-app purchases.
Peter Warman, CEO of Newzoo said, "When analyzing Apple's successful monetization, there is one dominant factor outside of differences in audience demographics and preferences: Apple requires users to connect their credit card information directly to their account, thus creating a seamless purchase experience."