Apple's Sale on iOS Devices vs Macs
DCI
In a recent report released by Asymco, it was revealed that Apple sold more iOS devices in 2011 than all the Macs it sold in 28 years.
The popular Apple products were compared with each other against the respective lives of the products. The analysis revealed that Apple has sold 140 million Macs to date in the 28 years. It sold 55 million iPads to date and 22 million iPods in the first five years. The company sold around 175 million iPhones to date with 37 million of them in the last quarter alone.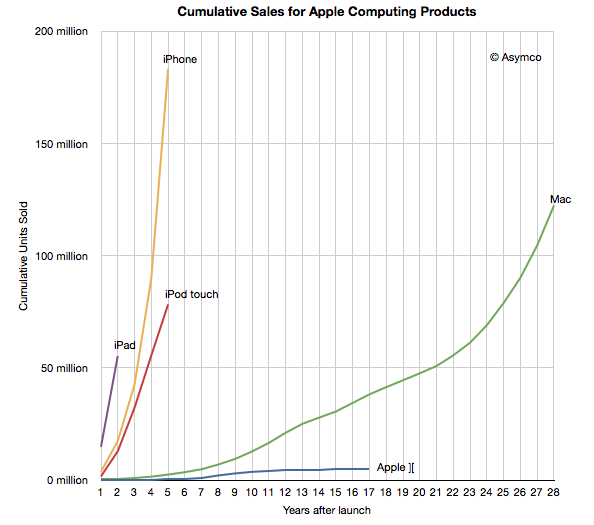 Put together, the iOS device collective reached 316 million cumulative units at the end of 2011 while the Mac collective sold only 122 million cumulatively to date.
Apple's Chief Executive, Tim Cook, quoted on the 55 million iPads sold to date, "This 55 is something no one would have guessed. Including us. To put it in context, it took us 22 years to sell 55 million Macs. It took us about 5 years to sell 22 million iPods, and it took us about 3 years to sell that many iPhones. And so, this thing is, as you said, it's on a trajectory that's off the charts."
The difference in the numbers may be due to the disparity in the availability and functionality of the Mac and the iOS devices.