DCI Named as One of AppIndex's Top App Developers in India
DCI
We are thrilled and proud to be recognized as one of the Top App Developers in India of 2015 by AppIndex, a B2B media service that connects the world's best app and game developers with the best app development platforms and other resources.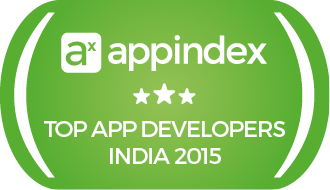 With the mobile market growing exponentially with each passing month, AppIndex recognizes that there is a pressing need for businesses to position themselves within the mobile sphere to be accessible to their customers. With the aim of making it easy for businesses to connect with the best app development companies in India, AppIndex has rounded up a list of development companies that are competent in delivering cutting-edge mobile solutions for a variety of industries.
In choosing the list of companies, AppIndex singled DCI out for the flexibility of our service, and our ability to deliver native and cross-platform mobile applications to our clients. It gives us great pleasure and satisfaction to be ranked among the best in our country, and to be recognized in the industry for our capabilities and our services.
You can learn more about our mobile application development services here.