Dot Com Infoway Featured as Leading Mobile App Marketing Agency by Clutch
Alfred
Dot Com Infoway knows what standing out in the mobile app space takes, and our team strives to consistently create premium products and provide superb strategy. Dot Com Infoway's expertise and client-centric approach have served us well in turning partners' ideas into real-world, world-class products that better businesses and processes, and we are happy to share that Clutch, the Washington, D.C.-based research and reviews firm, has noticed so, too.

In recent press releases, Clutch and its sister site, The Manifest, named us the no. 1 mobile app marketing agency in the nation, topping a field of nearly 100 companies, while also featuring Dot Com Infoway among the top 100 mobile app developers and among the top 20 development companies throughout India.
All of this recognition comes as a result of the data compilation and analysis that The Manifest and Clutch conduct. Our market presence, prior experience, and client satisfaction, among other qualitative and quantitative scores, were evaluated to rank Dot Com Infoway among the mobile app marketing and development industries and India as a whole in terms of firms' relative service and quality.
Dot Com Infoway also wishes to thank our clients for their partnership with us and trusting our team to provide marketing and software solutions. In more than a dozen reviews that clients left on our Clutch profile, Dot Com Infoway's responsiveness and results were particularly touted as strengths of our team and service.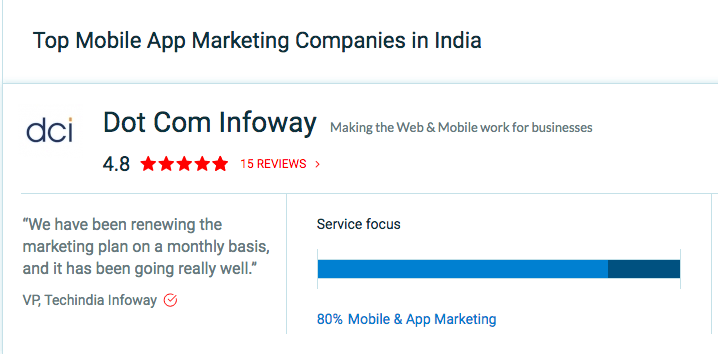 "Dot Com Infoway worked very hard to create what we had envisioned for our company's redeveloped website. Not only were they very knowledgeable and efficient in their work, but they also offered their suggestions and creative ideas time and time again throughout the process of adding numerous pages and features to our website. We were very impressed by the quality of work, customer care and meticulous attention to detail," shared one client.
"I'm very happy with the results," another client summed up. "Dot Com Infoway has taken the time to understand our requirements and have delivered beyond our expectations. Importantly, they have kept us in the loop of any new developments and have provided suggestions on how to proceed … Dot Com Infoway proved to be an effective marketing partner; the results exceeded expectations. The team was communicative, often suggesting novel approaches and offering guidance on best marketing strategies."
Whether you are searching for marketing strategy, software development, or a mobile app to bolster your business, know that Dot Com Infoway is here to help you stand out. Please contact us for more details about our approach or if you are interested in partnering with us, and we look forward to connecting!