Dot Com Infoway is now Top Mobile App Company in India!
DCI
Smart Techie, India's leading technology magazine, has chosen Dot Com Infoway as the Top Mobile App Company in India. In its latest issue (January 2011), Smart Techie has crowned Dot Com Infoway (DCI) as the Top Most Promising Mobile App Company in India, appreciating it for being a pioneer in the Indian mobile app market. This feature carried in it a list of "Most Promising Mobile App Companies" in which DCI was given the top spot.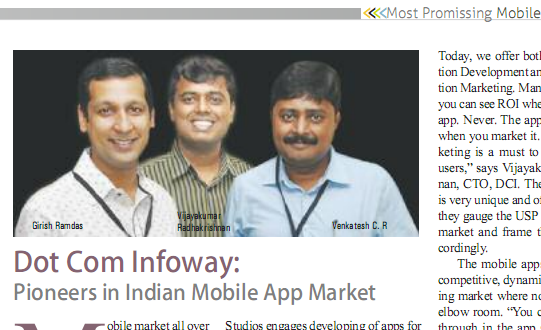 The article briefs the history of DCI and speaks about its key people – Mr. C. R.Venkatesh, CEO and MD; Mr. Girish Ramdas, President of Galatta.com and Mr. Vijayakumar Radhakrishnan, CTO. While referring to DCI Mobile Studios, the company's mobile division, the feature discusses at length about its  remarkable success with popular apps like the Galatta Cinema, VTV songs and IPL T20. "Back when the iPhone platform was introduced in India, they launched Galatta Cinema, the first-ever Indian movie and entertainment magazine on the iPhone," says Smart Techie.
This feature also discusses the company's mobile app marketing services and says that its style is "very unique and often viral". Smart Techie lauds the employee-beneficial HR policies of DCI which include Performance Linked Variable Bonus (PLVB), health insurance, cash incentives and paid leave.
After highlighting the future plans of DCI including its expansion plans, the feature concludes with a quote from Mr. C. R.Venkatesh: "We are expanding across continents, in both developed and emerging markets. We have offices in the U.S. and Netherlands and are planning to open branches in Australia and Singapore. We have plans to establish our client base in the Middle East too".
It can be remembered that last year, Dot Com Infoway was placed in Smart Techie's list of "Top 25 Most Promising Mobile Application Companies".